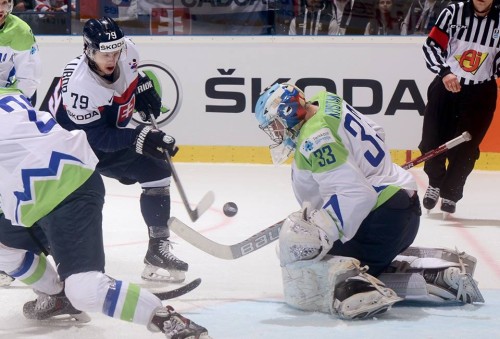 The Slovaks are starting to become a Cinderella story after completing a third successive victory after trailing deep into the third period.
This time it was a 54th-minute winner from Marian Gaborik that finally subdued a spirited Slovenian team and earned a first win in regulation after two wins in extra time prior.
It seemed that Slovenia was on the verge of repeating its Sochi sensation and claiming another famous victory over its near neighbour in Central Europe. It took a thunderbolt from Andrej Meszaros – Slovakia's unexpected scoring leader – to tie the scores on 48 minutes before Gaborik wrapped it up with two further goals.
The first Slovene power play of the night ended successfully as Urbas scampered into position in front of Jan Laco just in time to tip home Ales Kranjc's shot from the blue line.
The third period saw Slovakia's head coach Vladimir Vujtek leave captain Tomas Kopecky on the bench throughout – he later said "Tomas is a team player and knows there will be some changes when the team is not succeeding" – and the bold decision paid off.
Once again it was Meszaros time. The Buffalo Sabres D-man had never scored for Slovakia before Sunday's fightback against Belarus – now he has three goals, and all of them were vital. Here he leveled it up on the power play, unleashing a thunderous shot from the blue line to finally end Kristan's resistance. With 12 minutes to play the noise levels in the arena were turned up to 11 as another sell-out Slovak crowd scented another great escape in the making.
"We're playing with fire in these games but we know we'll have to play better because there's another great opponent waiting for us tomorrow," said Meszaros after the game. "But our guys deserve kudos for the way we kept doing the right thing, we stuck to the system, fought hard and in the end we won a big three points."