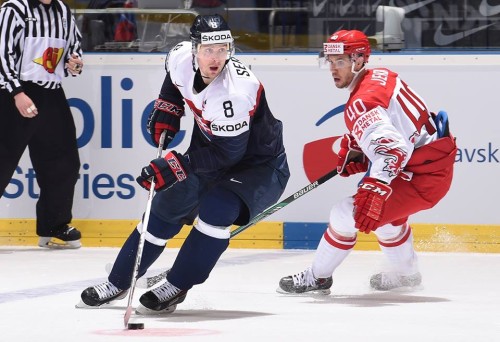 Slovakia found a way to edge out Denmark 4-3 in shootout of a very dramatic finish to the opening Preliminary Round game for both teams at the 2015 IIHF World Championships in Ostrava. Goals by Marek Viedensky and Marko Dano would prove to be the needed difference.
For more than two periods Slovakia couldn't find the back of the Danish net. A wild third period where both teams traded goals back and forth ensued before the matter was finally settled with a shootout.
Danish goaltender Patrick Galbraith put on a clinic for the first two periods but could not stop the Slovakia onslaught as they tallied three late goals in the third period. Not to be outdone, Denmark matched their efforts in taking the game to overtime and then the shootout.
"I think it's a bit disappointing." said Julian Jakobsen. "We played a really good game got a little passive maybe in the third they got a couple quick goals turned around. But for the team, for us it's a big step to see that we can come back against a top eight nation like Slovakia with so many big players."
Surely Denmark was hoping for the same result when these two teams met in 2010 at the World Championships in Germany, but it was not to be. Staked to a six goal first period, Denmark beat Slovakia with a convincing 6-0 win that year. Instead, this was close from beginning until its wild finish.