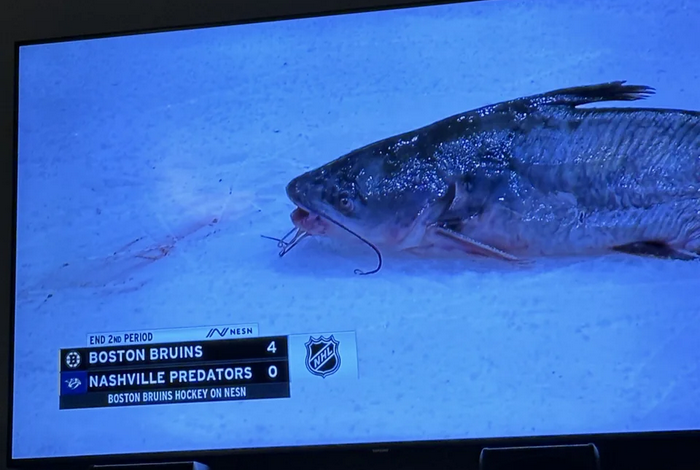 While each NHL team and its fanbase have their own set of customs and traditions, the Predators have chosen a rather nautical (and pungent) pastime.
Nashville fans have been throwing catfish over the boards for years, taking a page from the Red Wings' old habit of dropping Octopi onto the frozen sheet at Joe Louis Arena.
Sometimes all it takes is a simple heave onto the ice. At times, brave individuals, such as Titans offensive lineman Taylor Lewan, chug a beer from a fish in front of a raucous crowd.
Whatever the ritual entails, the actual throw at Bridgestone Arena is usually reserved for pauses in play or before the puck drops.
It appears that Thursday's game between the Bruins and Predators broke with tradition.
Because, with just over 10 seconds remaining in the second period, the Bruins had to weave past a deposited catfish during a power play rush.
This catfish was LAUNCHED pic.twitter.com/aYqb157363

— Marina Maher (@marinakmaher) February 17, 2023

Perhaps the Predators fan was getting restless as his team trailed, 4-0, after nearly 40 minutes of play.
Perhaps his smuggled cargo began to stink. Whatever the case, his howitzer of a throw didn't do any harm as the final seconds ticked away.
Bruins goaltender Jeremy Swayman was unbothered by the ordeal as he helped lead the Bs to a 5-0 victory:
Jeremy Swayman: not a catfish fan pic.twitter.com/yaH2Q5RVuo

— Emma Lingan (@emma_lingan) February 17, 2023
Swayman, who had his second shutout of the season, improved to 8-1-3 with a.937 save percentage in his last 12 starts.
Swayman has enjoyed his time between the pipes at Bridgestone Arena, despite the risk of being pelted by a river critter. Swayman is 2-0-0 with two shutouts in two career games against Nashville (71 saves on 71 shots).