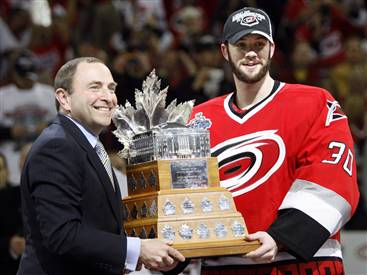 Apologies for the delay for those who have been keeping up with our series as my doctorate program has just resumed and thus I've been swamped with work. Today, we are going to look at the Top 5 Goaltenders in the Southeast Division. Based on feedback from our readers, we'll just rank the starters from now on instead of including the backups. With the starters, we'll offer projections based on the number of games they played last year. However, if they were not a starter last year, we'll project their stats based off of a 55 game season.
First, the starters:
5. Anders Lindback, Tampa Bay Lightning
With Dwayne Roloson remaining an unrestricted free agent and Mathieu Garon not doing anything spectacular last season, I firmly expect Lindback to receive the majority of starts in Tampa and be the "starter". This will most likely be a time-share, but Lindback is talented enough to win this goaltending job. Lindback is not well-known outside of those who watched the Central Division the past couple of years, but the 6'6″ goaltender has plenty of skills. He's been watching Pekka Rinne for a while and now he gets his shot to be the number 1 goalie. I expect Lindback to play about 50 games this year and provide more stability in the goal, giving Tampa the opportunity to open their game up again.
Last Year: 5-8-0, 2.42 GAA, .912 SV%
Projection (based on 55 games started): 29-19-7, 2.55 GAA, .910 SV%
4. Jose Theodore, Florida Panthers
This may be short-lived if the Panthers decide to make a move for Vancouver's Roberto Luongo, but for now Theodore claims the #4 spot on our list. While Theodore is far removed from his MVP season in 2002, he has still shown flashes of brilliance from time to time. Last year, Theodore posted his best SV% (.917 SV%) since 2003-2004 and his best GAA (2.46) since 2007-2008. In the playoffs, he kept up those numbers, posting a 2.46 GAA and a .919 SV%, but the Panthers came up just short to the New Jersey Devils. No one expects Theodore to be a world-beater next year, but if he can stay steady like he did last year, the Panthers will have a real shot at repeating their success from last year.
Last Year: 22-16-11, 2.46 GAA, .917 SV%
Projection (based on a 55 game season): 25-17-8, 2.50 GAA, .910 SV%
3. Braden Holtby, Washington Capitals
A year from now, we may look back on this ranking and say "What the heck were we thinking? This guy's awesome!". For now though, Holtby has only played in 21 regular season NHL games thus far, and we don't know if he's equipped to handle the starters' workload. However, in those 21 games played, Holtby has been sensational, going 14-4-3 with a 2.02 GAA and a .929 SV%, so the talent is definitely there. We really saw Holtby take it to another level during the playoffs after incumbents Michael Neuvirth and Tomas Vokoun went down, posting an insane 1.95 GAA and .935 SV% while taking out the defending Stanley Cup Champions and pushing the #1 seeded Rangers to a Game 7. For the first time since Olaf Kolzig, the Caps may have a real keeper. I do think that if he keeps up his numbers and does it over a full regular season, Holtby will challenge for the #1 spot on this list next year.
Last Year: 4-2-1, 2.49 GAA, .922 SV%
Projection (based on a 55 game season): 32-19-4, 2.35 GAA, .921 SV%
2. Ondrej Pavelec, Winnipeg Jets
The talent is there, the numbers will soon follow. The last two seasons, Pavelec has been the starting netminder for the Jets/Thrashers, and at times he's played phenomenally, including a one week stretch in Novemeber of 2010, where Pavelec stopped 97 of 99 shots against the Red Wings, Canadiens, and Bruins. The frustrating part for Pavelec has been that he hasn't been able to sustain that level of play and part of that is that he's received very little help from the defensemen in front of him. However, the defensive unit is a young unit and Pavelec himself is still young, so there is plenty of room for improvement. I expect Pavelec's numbers to improve in the next couple of years as his stats finally catch up to his talent.
Last Year: 29-28-9, 2.91 GAA, .906 SV%
Projection: 33-27-8, 2.70 GAA, .915 SV%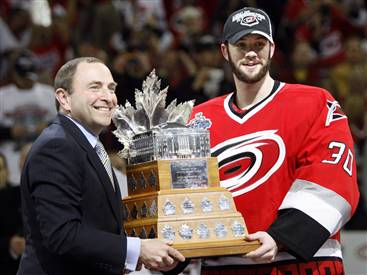 1. Cam Ward, Carolina Hurricanes
Cam Ward unquestionably is the best goaltender in this division. Ward has a Stanley Cup Championship, a Conn Smythe Award, and heaps of playoff experience. Last year was a down year for Cam and the Hurricanes, but after the offseason the Canes just had, expect Cam to bounce back in a big way. When Ward is at the top of his game, he can commit what can only be described as absolute sorcery. The terms and phrases that have been used to describe some of the saves, include larcenous, dandy, gem, "holy mackinac", and "I don't believe that one". Needless to say, I could go on and on and on with those miraculous saves that Cam Ward makes. Ward will bounce back in a big way this year.
Last Year: 30-23-13, 2.74 GAA, .915 SV%
Projection: 38-20-10, 2.45 GAA, .920 SV%
So that's our Top 5 Goaltenders in the Southeast Division. Stay tuned over the next few weeks as we wrap these up before the season starts. Don't agree with us? Comment below!