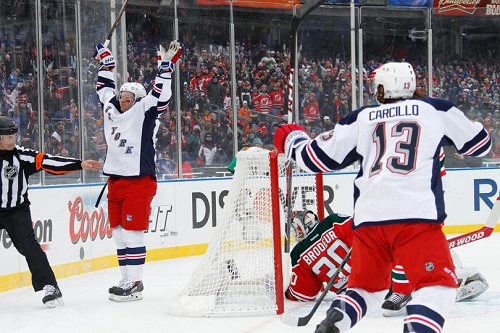 It has been quite the week in the New York hockey world. The National Hockey League's Stadium Series shifted from sunny Southern California to the frigid Bronx for two games involving the three NY-Metro teams. In the first of the outdoor games at Yankees Stadium, the New York Rangers downed the Devils 7-3. New Jersey looked good in the first period, but the Rangers played arguably their best period of the season in the second frame, scoring four goals and never looking back. Fast forward to Wednesday night, and it was another Rangers victory, this time over the Islanders, by a score of 2-1. The second of the two stadium games was a goalie-dominated affair, with Henrik Lundqvist making thirty saves and Evgeni Nabokov turning away 32 shots. The two New York teams met in a rematch at Madison Square Garden on Friday night, and the Blueshirts won their third in a row by a score of 4-1. It's tough to ask for a better week than that, so why the short-lived success? Despite the three straight division wins, the biggest story in Rangerstown is that their captain may be on the move.
Ryan Callahan is a fan-favorite amongst the Garden Faithful, and it's easy to see why. He's gritty, brings a lunch-pail attitude to the rink, and leads by example. He can chip in offensively, kill penalties, and can contribute on the power play. The Rangers are in second place in the Metropolitan Division, are 7-3-0 in their last ten games, but their Captain's contract status is all that matters at the moment. It may seem blasphemous for the Rangers to consider trading such an important piece to the team over the past seven seasons. But when you really break it down, trading Cally sooner rather than later may be Rangers GM Glen Sather's best move.
Ryan Callahan is on the last year of a three years/$12.8 million dollar contract. His previous contract was a two years/$4.6 million dollar contract, and the one before that was his entry level deal (three years/$1.7 million). For each of his three contracts, he's gotten a significant raise (deservedly so). He is absolutely due another raise, but not what he's asking for. According to TSN's Bob McKenzie, the Rochester native is looking for a seven year deal worth more than $6 million per season.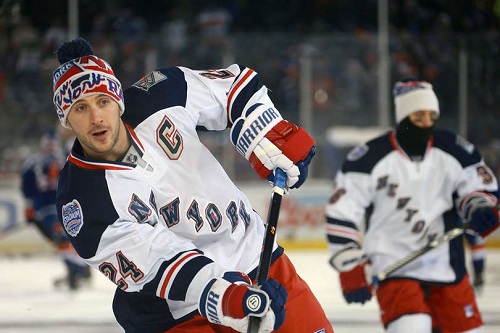 It's important to keep in mind that salary cap will be going up after this season, but I don't think the 28-year old is worth $6+ million per season. His best point total was 54 (back in 2011-12), and he's never had a thirty goal season. Oh, but what about the intangibles? Yes, intangibles. They can never be ignored in contract negotiations, but they can't be overvalued. If you're in the "Keep Cally At All Costs" camp, ask yourself this: how much of a dive in leadership and grittiness would the Rangers suffer if Marc Staal was the captain, and Dan Girardi slid in to the 2nd alternate captain spot (his contract negotiations are a discussion for another time)? The next retort from the pro-Cally corner would be "Brad Richards makes six million a year, and he was awful last season". Richards was pitiful last year, but a change in the coaching dynamic has helped Richards bounce back nicely, currently leading the team in points (39) and assists (25).
The reason Sather is looking to make a move before the Olympic Trade Freeze and not the traditional trade deadline is because he doesn't want to risk an injury to Callahan during the Sochi games. This is a smart strategy, but his trigger finger shouldn't get too itchy. If the right deal isn't there, he has the security blanket of the actual trade deadline. One rumored suitor was Columbus, but trading within your division should be avoided when possible. The other potential partner was St. Louis, with Chris Stewart being the main piece coming back. Stewart still has another year on his contract worth $4.2 million, so the salaries would be a wash. He would also give the Rangers some size up front with his 6'2" 230lb frame.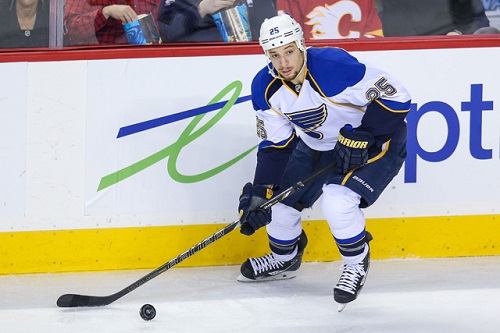 There's still some time remaining before the February 7th Olympic Trade Freeze, so the Callahan rumors will only increase as Friday gets closer. If your heels are still dug in on keeping Callahan and seeing where this team can go this spring, ask yourself two questions:
1) If the Rangers and the Callahan camp can't get a deal done now, what makes you think it will be any more likely when other teams will be free to throw money at him?
2) What player are you replacing Callahan with the $4 million per season sticker price?
Love Reading About Hockey?

Subscribe to keep up-to-date with the latest and most interesting hockey news!
| | |
| --- | --- |
| | We hate spam just as much as you |