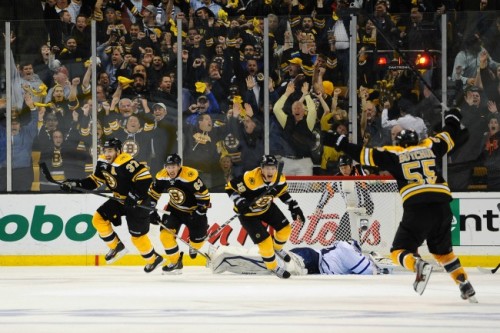 Ah yes it's that wonderful time of the year, the Stanley Cup Playoffs are upon us. Sixteen teams go all out to try and win sixteen times in order to hoist Lord Stanley's Cup. Four rounds of best-of-seven hockey with teams putting everything on the line. Often well matched teams will go the distance to that final determining game seven. In-fact tonight there are three game sevens to concluded the first round of the 2014 Stanley Cup Playoffs.
What's more interesting is that on a day like today in hockey history, there were a few other game sevens played that had some significance. One that holds of interest for today is that the San Jose Sharks won their first ever playoff series twenty years ago to this day. It's nearly all coincidence due to the playoff timing but nonetheless it's something fans can use as a motivator with their team going into a game seven.
Tonight's first winner take all game is between the Philadelphia Flyers and the New York Rangers with the winner setting up a second round matchup against the Atlantic Division Winners of the regular season, the Pittsburgh Penguins. Then the Minnesota Wild will take on the Colorado Avalanche with the winner to advance and take on last year's Stanley Cup Champions, the Chicago Blackhawks. According to the online oddsmakers at Sports Betting Dime, the Avalanche are listed as the favorite to win out and advance on. This shouldn't come as a surprise when you consider that both teams to this point have only won their games at home in the series.
Finally, the game many will tune in to watch tonight will be between the Los Angeles Kings and San Jose Sharks. The Los Angeles Kings found themselves in a 0-3 series deficit to start off but have since battled all the way back to force a game seven tonight. In-fact, the Kings look to become just the fourth team in NHL history to win a series after dropping the first three games. The last team to complete such a feat were the 2010 Philadelphia Flyers who not only came back from an 0-3 series deficit but also from an early 0-3 deficit in game seven against the Boston Bruins.
The Sharks however have been in this position before. In 2011, the Detroit Red Wings rallied all the way back from an 0-3 series hole against the Sharks to force a winner take all game seven. The Sharks came out strong and dictated much of the play in the game to eventually go on and win 3-2 and avoided becoming another historical static they wanted no part of. Will the Sharks be as fortunate this year against the Kings?