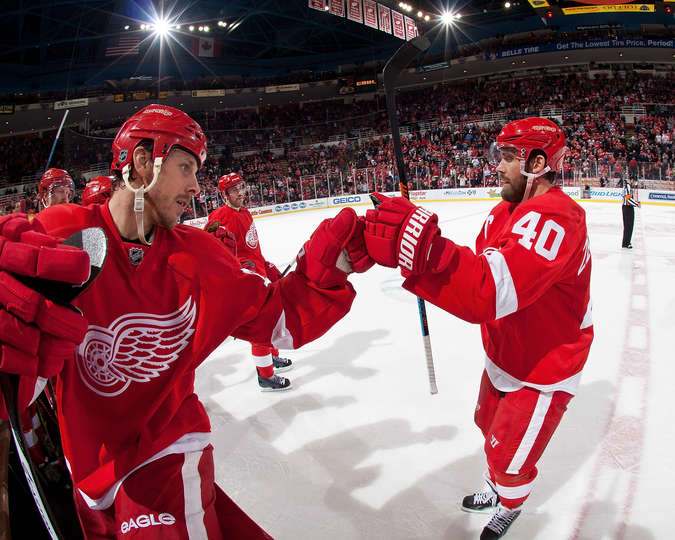 The Detroit Red Wings' third line contributed six points as they won in convincing fashion over the Philadelphia Flyers Wednesday night.
The newly healthy Stephen Weiss, alongside fellow centers Pavel Datsyuk and Darren Helm, has shown surprising chemistry after only one game together. Weiss led off the night by scoring his third goal in two games. At first glance, it appeared Helm would get credit for the goal, but further replay showed Weiss net-front skillfully deflecting the puck past Flyers goalie Steve Mason.
The goal marked career notch number 150 for Weiss, one game after he scored career point 400.
"I didn't know either of those [milestones]," said Weiss. "Obviously heard about the one last game. But, you know they're nice accomplishments to have in your career. Especially over the last year and a half, it's been a rough ride. So to see some positive things happen, it's a nice change."
There is something to be said of a player that doesn't keep track of his own accomplishments. It shows that career numbers take a back seat to helping out the team. It also demonstrates humility, an attribute that reflects his 13 years of experience in the NHL.
Stephen Weiss celebrates his goal that opened the scoring in a 5-2 victory over the Philadelphia Flyers on the eve of Thanksgiving. (Photo by Dave Reginek/NHLI via Getty Images)

"It's nice to contribute offensively, there's no doubt about it," he said. "And, when you're going through tough streaks, it feels like you'll never get out of them, and when things start going for you, you want to hang onto it for as long as you can."
"He's competing and he's working. He's a smart guy," Mike Babcock said of Weiss. "He knows how to play. He's played a long time. He can take a faceoff. He can do lots of things. He's a good power play guy. It's just a matter of time. He's got to get some rhythm and some tempo, and he's got to get feeling good about himself. To me, that's not this week. That's a month and a half from now."
In the second period, Philly briefly tied things up, before Detroit would take a stranglehold on the contest. Tomas Jurco scored only his second goal of the season midway through the period as wristed a puck right between the legs of both Flyers defenseman Michael Del Zotto and Red Wings forward Luke Glendening. Mike Babcock praised the play 'of the young winger.
"I thought Jurcs was great," said Babcock. That line was good, and he was really good and fast, and he gives them some skill. Jurcs to me is an important guy for us."
Datsyuk would score a pair of goals later in the period. The first came on a quick power play as Jakub Voracek was caught holding. Five seconds into the man-advantage to be exact. It was Datsyuk's first game since November 16th and his first goal since November 2nd. This caused Flyers coach Craig Berube to switch netminders, even though two of Mason's allowed goals were the result of perfectly executed screens by Detroit. With Ray Emery now in net, Datsyuk would score on him too. Both Helm and Weiss had an assist on the play. He now has 13 points in 11 games this season, as he has been battling injuries off-and-on.
"It's a lot easier with [Datsyuk] in the middle," said Weiss. "He can take care of mistakes that Helmer and I make. But certainly, as a first game together, it wasn't anything spectacular in terms of possession or anything. But we got some bounces again, and it was nice to contribute."
Detroit defenseman Kyle Quincey and Flyers forward Sean Couturier dropped the gloves in the second period in a low-punching affair. Since neither player is very skilled at fighting, no damage was done, but they had to sit for five minutes apiece nonetheless.
In the third, Philly attempted a comeback as Voracek scored twelve seconds into a Niklas Kronwall penalty. However, Detroit's defense and Jimmy Howard tightened the blueline for the remainder of the game, and captain Henrik Zetterberg added an empty-netter goal just for insurance.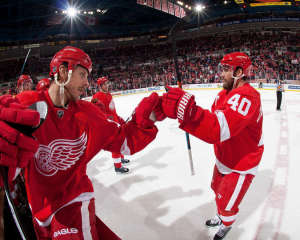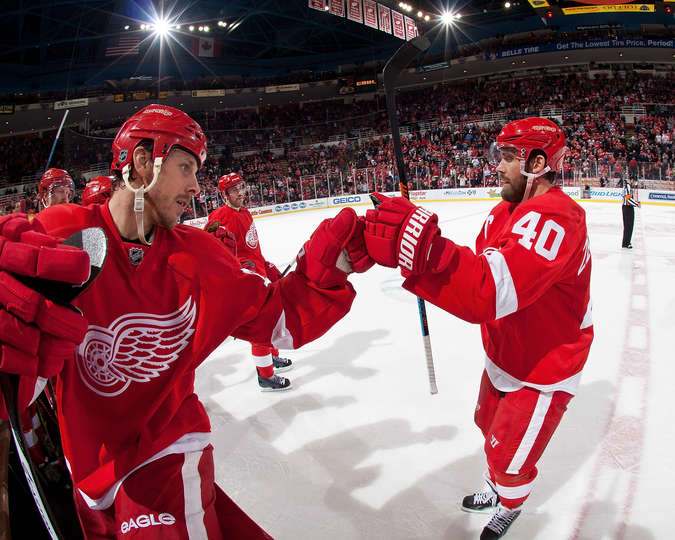 The Red Wings improved to 12-5-5 and have a game-in-hand on both Montreal and Tampa Bay. They sit third in the Atlantic Division with 29 points.
They conclude the month of November by travelling to New Jersey on Black Friday before returning home for three consecutive games starting on Sunday.
Follow me on Twitter @yungspork
Love Reading About Hockey?

Subscribe to keep up-to-date with the latest and most interesting hockey news!
| | |
| --- | --- |
| | We hate spam just as much as you |