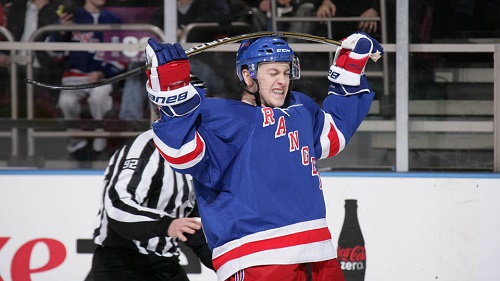 The New York Rangers pre-season is in full swing. After losing their pre-season opener to the Devils 2-1 and beating the Flyers 3-2 (both on the road), the Rangers left for Alberta on Wednesday to continue training camp north of the border (they have four remaining pre-season games out West – the schedule is at the bottom of the article). All of this is going on without one of their top centers, Derek Stepan. The Restricted Free Agent has yet to take a shift with his teammates from the past three seasons, and it doesn't appear that things are moving in that direction.
The Rangers weren't active in free agency this summer because they had three key restricted free agents to sign. They signed LW Carl Hagelin to a two year-$4.5 million dollar contract, and locked up D Ryan McDonagh with a six year deal worth $4.7 million per year. Both are key pieces, but Stepan was arguably their best forward last season. Glen Sather has stated that he doesn't like handing out long-term contracts off of entry-level deals (Ryan McDonagh's contract aside), and it seems like Stepan is fine with that. Stepan's agent, Matt Oates, told the New York Post in a phone interview:
""Derek isn't interested in negotiating his contract through the press, but there's been a lot of speculation out there about what he's asking for, and this and that. We just want to make sure there are no misconceptions. Derek has put himself in a category with all those guys coming out of Entry Level who received long-term contracts. He's earned that, but we have never said that we wouldn't explore a short-term deal, either. We're just looking for a deal that will reflect his performance"
He continued to say
"I think it's beneficial for the Rangers to lock him up long-term, but if that's not possible at this time, we're certainly willing to engage management on a short-term deal in order to get this done and get Derek on the ice."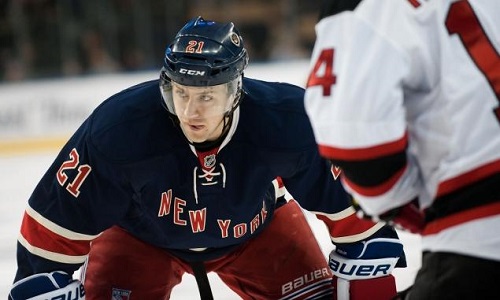 Glen Sather feels as if Stepan's agent is being "unrealistic". The Rangers clearly want him there, and they've come to an understanding that it won't be a long-term contract. The problem is the two sides agreeing on a "fair" value for Stepan. The Rangers have just over $2.1 million in cap space, and that's not going to get it done. Young Maple Leafs Center Nazem Kadri seems to be the measuring stick, and he just signed for a two year – $2.9 million per season deal. Sather is going to have to clear cap space to make this work, but he can't have Stepan's contract leave him without some cap wiggle room either.
The negotiations looked like they would go slowly at the beginning of the process, but they're at a stalemate for the time being. Young, good defenseman on the rise are rare, and McDonagh deserved to be paid what he got. But Sather didn't do himself a favor by giving someone a six-year deal worth well over $4 million when you're trying to get your top Center in for under $3 million.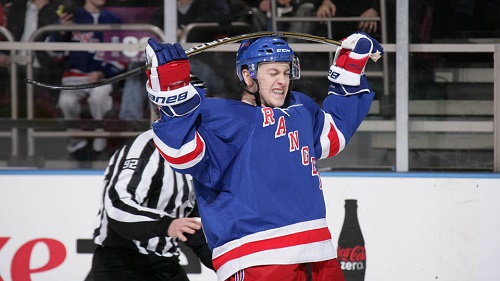 One of the reasons I thought the Rangers underachieved last year was because there were a couple of important, new pieces to the roster. No training camp, plus a condensed schedule, subtracting practice time, all leads to more time needed to build chemistry. It's no coincidence that the final four teams in the Stanley Cup playoffs all came in to the shortened season with very similar rosters from the previous year. The Blueshirts have plenty of good pieces on the roster, and Stepan has been a part of the organization for three seasons. But it's getting to a point now where if these negotiations drag on, you have to wonder how long it's going to take for Stepan to get back in to a groove in the roster. He was officially removed from the Rangers roster this past week, and Alain Vigneault has to prepare the Rangers as if Stepan isn't a part of the team. Avalanche C Ryan O'Reilly was in a similar situation last year, and missed the first six weeks of the season. The Rangers should keep their fingers crossed that Stepan doesn't follow a similar path. If Stepan wants to head to Sochi and represent Team USA, he shouldn't let this go on for too long either.
Rangers Remaining Pre-Season Schedule
Mon 9/23 @ Calgary – 9PM
Tue 9/24 @ Oilers – 9PM
Thu 9/26 @ Vancouver – 10PM (NHL Network)
Fri 9/27 @ Kings in Las Vegas – 10:30PM (NHL Network)