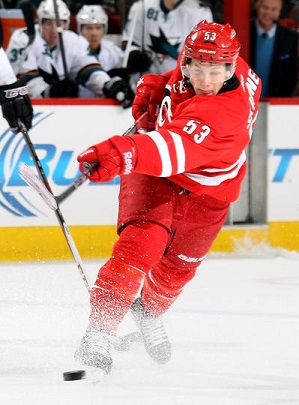 Things finally seem to be clicking for the Carolina Hurricanes and their big guns on offense. After starting the season with an abysmal 1.90 goals per game, the Canes have turned things around substantially on the offensive side of the ice and the big names are starting to score goals. Last night's game against San Jose showed the continued emergence of Jordan Staal as an offensive presence. The Canes were able to pot five goals for the home crowd and defeat one of the NHL's best in decisive fashion for their third consecutive win.
The Canes were able to hang four goals in DC against the Capitals Tuesday night, and scored five in Nashville Thursday. With the winning streak, the Canes have 31 points in the standings and currently sit in second place in the Metropolitan division. The turnaround can be attributed to the team doing the little things that winning hockey teams do: get the puck deep, have a strong forecheck, and finish opportunities when they present themselves. Jeff Skinner notched two goals against Washington and got his first career NHL hat trick against Nashville to provide the pop for the offense. While the power play still continues to be an area for concern, the defense continues to play well in front of whichever goaltender head coach Kirk Muller decides to put between the pipes and the offense seems to be waking up at a very good time.
Cam Ward and Justin Peters have been switching off netminding duties, while Peters has made the goaltending situation interesting with his solid play as of late. When Anton Khudobin comes back from injury, the Hurricanes will have an interesting decision to make with three healthy and capable goaltenders on the roster.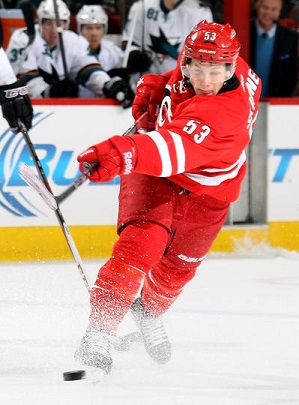 The Hurricanes have been playing very well as of late, but face a big challenge in the upcoming weeks. They take a trip to the west coast where they will play Vancouver, Edmonton, Calgary, and Phoenix before coming back home to take on the division rival Capitals. The schedule gets tougher from here, but if the Hurricanes can string together strong efforts and get points out of these crucial road games against Western Conference opponents, they will be sitting pretty when the boys return to Raleigh.