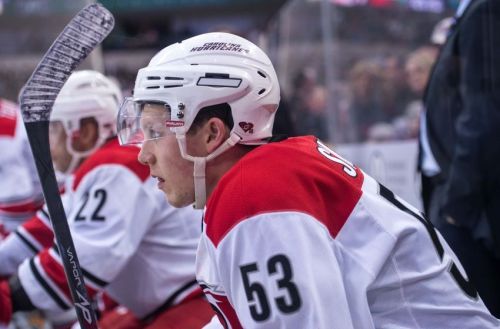 The Carolina Hurricanes have played eight games since their October 10th season opener. They have amassed exactly zero wins and have only gained two points out of a possible 16 in the standings. To say the Hurricanes have started slow would be a vast understatement. While there are a few reasons for Carolina's struggles, it's pretty hard to pinpoint the exact reason they haven't been able to beat anyone thus far.
Injuries have devastated the Hurricanes early on. The injury bug hits every team. All NHL squads are susceptible to having injuries decimate their scoring or blue line. Teams should be prepared to play with key players out of the lineup at any given time. So using the long term injury to Jordan Staal, and the early injuries to Jeff Skinner, Eric Staal, Patrick Dwyer, and Andrej Sekera would just be unfair and a convenient excuse. However, the injuries have had consequences that have indeed led to the slow start.
With top line players out of the lineup, support players have been bumped up and have been expected to play roles that are simply above their pay-grade. While first line center Eric Staal was out of the lineup, the spot was filled by a combination of Riley Nash and Victor Rask. Nash, whose career high in points is 24, served as the third line center for much of last season. Rask played all of last season for the AHL Checkers, and was a question mark to even make the roster before making a case for himself with a strong training camp. Rask has seen his time on ice reduced to fourth line minutes after failing to register a single point, but Nash has recorded 5 points. Neither of these players have any business playing top-line minutes, but injuries have made it necessary.
Another factor in having a winless record is the lack of offensive firepower. Jiri Tlusty leads the team in goals (5) and points (7). While Tlusty has been a solid player for Carolina in the past, the fact that he leads the team in both categories reflects the lack of offense provided by the team. Dynamic star Alexander Semin has been much maligned this season, and rightfully so. Semin has tallied two assists and is a -7 in eight games. New head coach Bill Peters has apparently seen enough, as Semin is listed as a healthy scratch for tonight's game against Arizona. Skinner has two points in four games, and Eric Staal has three points in three. These two must provide the bulk of the scoring if the Canes want to turn things around.
Defense has been awful. Justin Faulk, an Olympian a year ago for team USA, is a -8 on the season. He's looked shaky at best, and has struggled to recapture the chemistry he had last season with Andrej Sekera. The bottom two pairings have been a rotating door of older, slower, past-their-prime players who look like they're place-holders on the defense instead of NHL caliber defensemen. The goal differential for Carolina this season is -18, second worst only to the dumpster fire that is Buffalo's -23. Incidentally, that same horrible Buffalo team beat Carolina in a shootout and has three more points in the standings.
Which brings us to the goaltending. Cam Ward and Anton Khudobin were expected to be "saviors" for this team. The tandem was expected to carry the team and be a one-two punch that would help cover up holes in the defensive game. Not so much. In four starts for each netminder, they both have save percentages below .900 and goals against averages higher than three. The goaltending has let the team down but they've been left out to dry more often than not.
The bad start has been a total team effort, and while new general manager Ron Francis is under pressure to make a change, the Hurricanes are handcuffed by terrible contracts and no-trade clauses handed out by previous GM Jim Rutherford. The team has more talent than they have shown, and the wins will come because the effort is there. But just eight games into the season, it seems like it should be a written off campaign already. The Hurricanes are firmly in the hunt for one of the coveted top draft picks so far, and things have to turn around drastically for that to change anytime soon.
Love Reading About Hockey?

Subscribe to keep up-to-date with the latest and most interesting hockey news!
| | |
| --- | --- |
| | We hate spam just as much as you |