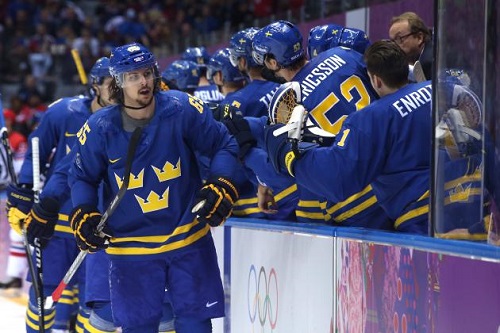 If you're a member or a fan of the Tre Konor, today's opening game against the Czech Republic couldn't have gone any better. When the groupings came out, it looked like the Swede's toughest game would be their first one. After one period of hockey, it was clear who the top team in Group C is, and it left fans of the Czech Republic pining for the days of Dominik Hasek.
The source of Sweden's offense in the first period came mostly from the blueline. Erik Karlsson, who is one of the best puck-moving rearguards in the world, opened the scoring with a blast from the point (fellow defenseman Oliver Ekman-Larsson and Alex Steen pitched in with the assist) and received some help courtesy of a Daniel Alfredsson screen midway through the first period. Three minutes later, Patrik Berglund put Sweden up 2-0 courtesy of another Larsson assist.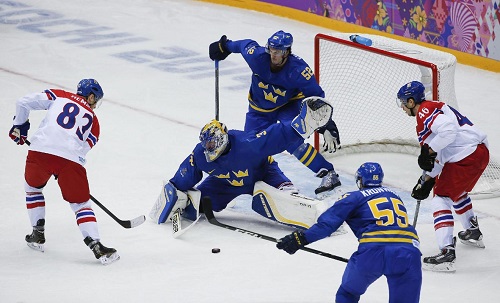 The dominance of the Czechs continued early in to the second frame, when Swedish Captain Henrik Zetterberg made it 3-0 (assist by Gabriel Landeskog) just 51 seconds in to the period. Czech Republic goalie Jakub Kovar was yanked and replaced by Alexander Salak. The change in net didn't stop the bleeding, as Karlsson added his second goal of the game, this time with the man-advantage (assisted by Daniel Sedin & Nicklas Backstrom), three minutes after Zetterberg's tally. The Czech Republic managed to score twice before the second period ended (Marek Zidlilcky and Jaromir Jagr), but it was clear from beginning to end that Team Sweden was a cut above the Czechs.
If you want to nitpick, you can say that Sweden let the Czechs back in with two goals, but there is some considerable talent on that squad, and it's not like they let Austria claw their way back in. Henrik Lundqvist looked like the goalie Sweden needs to make a run at gold, turning away 27 of 29 shots, and even chipping in an assist on the Berglund goal. Next up for Sweden is the Swiss on Friday morning at 7:30AM Eastern time. Switzerland squeaked by Latvia 1-0 in their opening game. The Swiss will provide a tougher challenge than the Czech Republic did between the pipes, since it will be Anaheim Ducks goalie Jonas Hiller manning the crease.