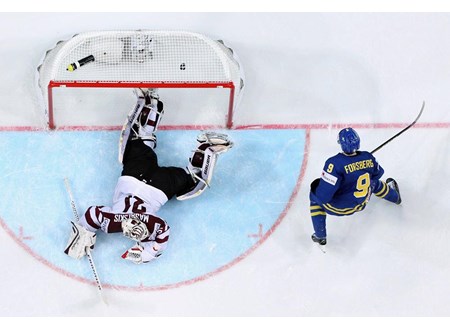 So far at the World Championships, Sweden has managed to pull off a 3-0 record to date. What's even more incredible is the goal differentials get bigger with every game.
On Monday, Sweden defeated Latvia 8-1 and continued to prove that they want to defend a metal for their country, and hopefully better than bronze.
Sweden has effectively proven both of their goalies' talent, switching back and forth between Jhonas Enroth and Anders Nilsson each game. Against Latvia, Sweden gave Nilsson the night off after he helped Sweden defeat Austria 6-1. Needless to say that Enroth's save percentage improved this game from the game against Czech Republic, having a save percentage of a solid .95%.
The star first line for Sweden continues to outperform their opponents, this game having Loui Eriksson score three goals Team Sweden.
Not only is Loui Eriksson a star of the first line, but Filip Forsberg is also proving how important he'll be for the team, even though he might be producing the same amount of penalties as he is points.
They also managed to capitalize on a few of the power plays this game, scoring three power play goals and a penalty shot.
On Wednesday, Sweden will play Canada to see who will stay at the top of the leaderboards for Group A in the Round-Robin tournament. Canada leads Group A with a one point lead on Sweden. Sweden will play Germany on Thursday.