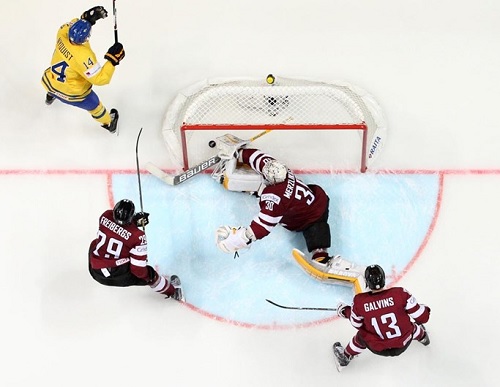 Sweden opened the 2016 World Championships with an overtime win against Latvia in the first matchup of the preliminary round.
The first period registered one goal in the first three minutes from Sweden. Jimmie Ericsson slid one past Latvian goaltender Elvis Merzlikins, assisted by Mikael Backlund and Johan Fransson. Sweden also tallied two penalties in the first period. A holding call on Robert Rosen and a tripping call on Gustav Nyquist both resulted in killed penalties for Sweden.
Sweden had three power play opportunities in the second period and 12 shots on goal. Sweden was unable to capitalize on any of them. A holding call on Oscar Fantenberg gave Latvia a chance on the power play, but Swedish goaltender, Jacob Markstrom, saved all 6 shots on goal.
Halfway through the third period a penalty on Martin Lundberg gave Latvia the opportunity to tie up the game. Kristaps Sotnieks tallied a goal on Markstrom, assisted by Mikelis Redlihs and Andris Dzerins. Miks Indrasis was called for a hooking penalty right after Latvia's goal, but Sweden couldn't grab the lead on the power play.
With the third period coming to a close with a tied game, the first game of the preliminaries went to overtime. In the 64th minute, Gustav Nyquist, assisted by Alexander Wennberg, won the game for Sweden.