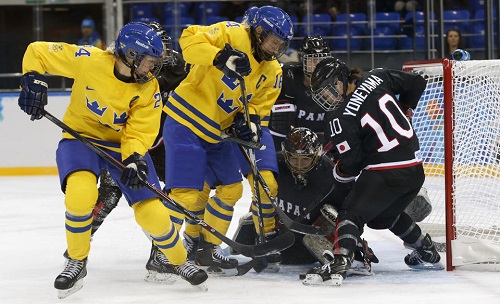 Despite determination by the underdog Japanese Women's Team, Sweden moves on with a 1-0 victory.
Japan came ready and fired up for fierce play but penalties and the failure to capitalize on the power play proved deadly to the team. Team Japan was making their first appearance in the Olympics since the introduction of the sport to the winter games in 1998.
Japanese goaltender Nana Fujimoto made 22 saves, making for a .956 SV% before she was pulled with less than a minute to go with hopes that the man advantage would be enough to keep the Japanese in the running.
The only goal from the game came from a deflection by Jenni Asserholt, a 25 year old player who's making her third appearance representing Team Sweden at the Winter Games.
The lone goal was the result of a conversion on a power play, just 10 seconds after taking the man advantage.
Goaltender Valentina Wallner stopped 19 shots for the Swedes, helping secure the win for the women's team who hope to advance out of group B into one of two spots for the quarterfinals.
Sweden is the only other team besides superpower Teams USA and Canada to compete for a gold medal, in which they snubbed the US with a 3-2 win to go on and take the silver medal in Torino in 2006.
After being threatened to not attend the games in Sochi and barely skating by with a victory against the Japanese, the Swedish Women's Team needs to become as strong offensively as they are defensively. Although they led the game with shots on goal, the win over Japan needs to bring back a rallying effort to stay in contention for a medal.
Sweden takes on Germany Tuesday at 5am EST.