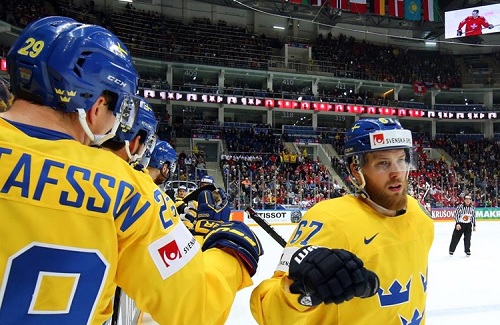 Sweden faced Switzerland on Sunday and emerged victorious after a battle that lasted three periods, overtime and a shootout.
Jacob Markstrom had a 93.1% save percentage after blocking 27 of 29 shots on goal. The majority of the game was spent tied, with every goal having an answer from the opponent.
Sven Andrighetto ended the first period by putting Switzerland on the board with his goal, assisted by Noah Schneeberger.
The first ten minutes of the second half produced only penalties for both teams. Switzerland had 8 minutes of penalties and Sweden recorded 4 minutes. The last power play of those 10 minutes, with a goal scored by Johan Sundstrom, resulted in Sweden tying up the game.
Just a few minutes into the third period, Switzerland answered with a power play goal of their own. A too many men call resulted in Denis Hollenstein bringing the game to 2-1. Sweden had back to back penalties following that, but they were able to keep Switzerland from scoring again. Gustav Nyquist, assisted by Adam Larsson and Robert Rosen, scored on the power play for Sweden to tie the game again before going into overtime.
Overtime wasn't enough to settle the game. Sweden had four shots on goal, and Switzerland had one. The game headed to a shootout to decide the winner.
Nino Niederreiter and Andre Burakovsky were the only ones to score for their teams, but Burakovsky grabbed the game-winning goal for Sweden and Markstrom blocked Niederreiter's last shot to end the game.