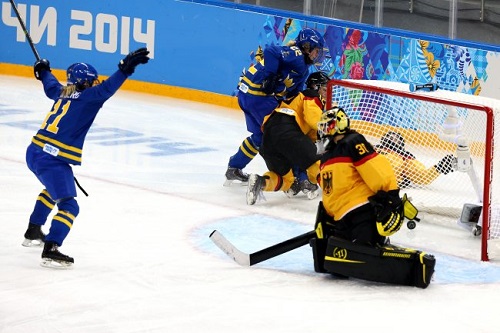 Despite Sweden's reluctance to send a women's hockey team to Sochi, these ladies are playing for keeps, securing their second shutout of the Olympics.
The Swedes rocked the slow German team from the first period, proving their desire to try to take home a medal once again.
After only one minute into the first, Emma Nordin was able to deflect the puck, giving the Swedes an early lead against Germany.
For the remainder of the first, Sweden controlled the game offensively, outshooting the Germans 12-4. In addition to dominating the first period offensively, the defense proved held strong, despite having to go on the penalty kill twice.
An equally matched second period lead to an offensively aggressive third period for the Swedish team, with Sweden maintaining control of the puck despite Germany going on the man advantage three different times, resulting in an additional three goals.
After a close win on Sunday against Japan, Sweden came into this game with a better offensive strategy, but the same solid goaltending.
Goaltenders Kim Martin Hasson and Valentina Wallner are perfect in net thus far in the tournament, with Hasson blocking all 21 shots faced today and Wallner stopping 19 shots by Japan on Sunday morning. This is Hasson's fourth Olympic appearance.
With both Sweden and Russia undefeated so far in the tournament, the match between leaders of Group B on Thursday will decide who wins this group. The winner of Thursday's game will go onto face Switzerland, and a win for the Swedish team could prove that this team is a team to watch for again.
Expect Thursday's game to be the most exciting game of the group yet.