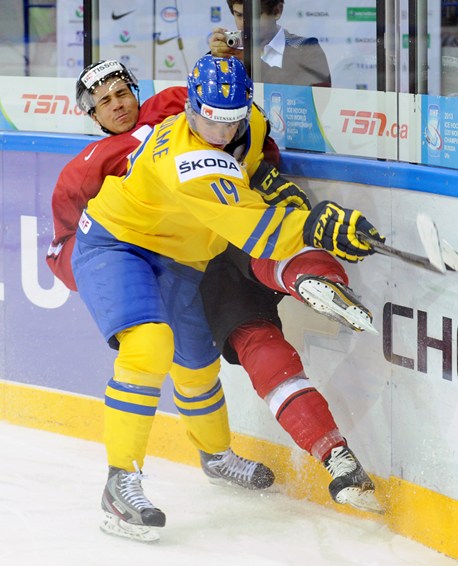 Victor Rask scored the lone goal of the shootout to give the Swedes a 3-2 win over Switzerland. Sweden also went with a unique strategy of changing goalies prior to the extra shots that ultimately paid off.
Although Sweden's goalie Joel Lassinantti played the full 65 minutes of regulation and overtime, coach Roger Ronnberg went with Niklas Lundstrom for the penalty shots.
The Swiss were also beaten by the Swedes in a shootout at last year's U20, 4-3. This year's win gives the team five points and first place in Group A while the Swiss, with the extra point, are now in second with four.
"It's a tough way to lose," Nyffeler said, "but we played really well and the point in the standings will help."
Switzerland played a very focused game in the first period and skated off with the only goal. Lino Martschini made a spectacular pass in the slot feeding Eliot Antonietii who threw a quick shot that eluded Joel Lassinantti.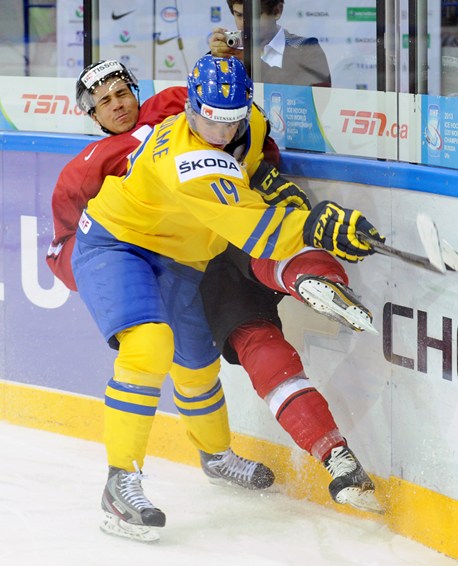 The Swiss continued their strong play in the second with relentless checking on the Swedes. However the Swedes tied the game at 10:32 on the power play. Mikael Vikstrand made a cross-ice pass through the middle and Sebastian Collberg ripped a one-timer to the short side before Nyffeler could get over to the far post.
It only took 90 seconds for the Swiss to reply. On a power play of their own, Mike Künzle watched a long shot hit off the crossbar and fall right in front of his feet. He reacted quickly and put the puck in to give Switzerland the 2-1 lead after 2 periods.
Yet the lead was short-held as the Swedes tied it up at 2 a piece early in the third when Emil Djuse's routine shot found its way through traffic and past Nyffeler.