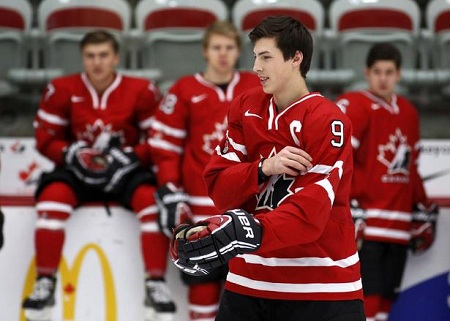 Team Canada always is one of the top teams at the World Junior tournament, but Finland surprised them with a 3-2 win in the first pre-tournament game. Penalties cost Team Canada, 10 in all, and they were never able to get into a good rhythm because they were shorthanded. Finland took advantage of the undisciplined Canadians to get two 5 on 3 goals, goals that took Canada out of the game early. After the jump I'll break down the game, period by period, and offer some commentary on the team's first game.
First Period: Canada started off strong, winning most of the faceoffs and getting some scoring chances (and a powerplay) early. But then the penalties started coming for Canada and the ice quickly turned against them. First it was Dougie Hamilton who went off for cross-checking, a penalty Canada easily killed. But then Ty Rattie went off for slashing, Ryan Strome for hooking and Scott Harrington for hooking. And that is when Finland struck. Marcus Granlund in his third tournament fired a one-time slapshot on a wide cross-ice pass from Joel Armia. Malcolm Subban didn't have much of a chance on it but it showed how costly penalties can be. After Harrington's penalty, Canada tried really hard to score. Nathan MacKinnon and Charles Hudon had some great chances on rushes, but nothing came of it. The period ended with a Finnish penalty and a Finnish team in the lead, 1-0.
Second Period: This was Canada's strongest period and for a bit, it looked like Canada would be back to the dominant play expected of them. They didn't get many scoring chances on the powerplay to start the period. But then they turned up the heat and soon scored a goal to tie the game. Boone Jenner and Charles Hudon started the rush with a two on one. Jenner sent a perfect saucer pass to Hudon who fired a hard shot on goal. Goalie Janne Juvonen kicked the rebound into the slot, but kept sliding, leaving a wide open net for the trailing defenseman, Griffin Reinhart; who easily scored the goal. Suddenly Canada was energized and only 34 seconds later, they scored again. This time it was Mark Schiefele who scored, set up in the slot by a slick pass from Ryan Nugent-Hopkins. Canada was now up 2-1.
On one of Canada's many rushes in the first-half of the second, Brett Ritchie was taken down awkwardly. He skated on his own off the ice, but didn't return in the game. In a post-game interview, coach Steve Spott said it was only precautionary reasons that Ritchie did not return and that he will be back against Sweden on Saturday. Ritchie is an important player for Canada. In 32 OHL games for Niagara, he has 27 goals and 50 points. Many of those goals have been assisted by Strome and Spott is hopping their OHL chemistry can transfer into goals for Canada.
About halfway through the period Canada got into penalty troubles again, first with Hamilton off for hooking and then Schiefele for tripping, giving Finland another 5 on 3. And again Finland took advantage of the undisciplined play to tie the game. Ville Jarvelainen scored by walking into the slot and using Tyler Wotherspoon as a screen to pick the high glove on Subban. This didn`t bother Hudon, who on the same powerplay made a great play that would have been a shorthanded goal. But the Finnish defenseman who slid to stop him took out the net before Hudon`s shot went in. That was the only exciting play for Canada in the period, but they went into the intermission tied and still very much in the game.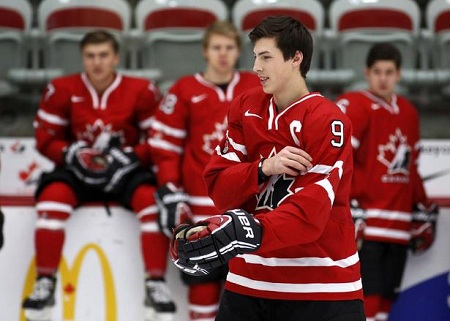 Third Period: After two periods with a lot of penalties and choppy play, the final frame started surprisingly quick. There wasn`t a stop in the play for over 5 minutes and both teams had chances to score. But just over 7 minutes into the period, Finland got their break. After a tracking a bouncing puck, Miro Aaltonen threw the puck on goal and some how was able to get it under Subban`s arm. The weak goal, one Subban should have stopped, took all the energy from Team Canada and ultimately cost them the game. The team began falling apart when Xavier Oullet took a cross-checking penalty. Shortly after that was killed off, Hopkins and Harrington took penalties that put Canada down at least one man for the final 4 minutes of the game. It was a fitting ending to a game where penalties told the story and cost Canada the win.
TSN`s highlights from the game can be found here.
Team Canada will be back on Saturday December 22 at 9 a.m. against Sweden. They open the tournament on December 26 at 4 a.m. against Germany.