Imagine you are the general manager of your country's Olympic hockey team. You've been granted a time machine that allows you to go back to prior Olympics and bring players back to play for your team. Who would you choose to construct the ultimate team from your country?
Here are the basic ground rules:
-You can only choose players that have competed in the Olympics for the particular country.
-No junior championships, no world championships, only the Olympics.
-You must select the specific Olympic year of that player (e.g. 1998 Dominik Hasek) and once a version of the player has been selected, that player cannot be reused (ex: you can't take 1998 and 2002 Steve Yzerman).
-Players can be from prior to the inclusion of NHL players in the Olympics (e.g. 1980 Jim Craig).
You are tasked with putting together the best team possible. Select 12 forwards, 6 defensemen, and 2 goaltenders. Your line combinations matter and your defensive pairings matter. Everything matters in your quest for the Ultimate Olympic Gold Medal.
Team Slovakia All-Time Forwards:
1st Line: '06 Marian Hossa – '06 Pavol Demitra – '98 Peter Bondra
This top line bolsters a deadly two-way, near 40-goal and 100-point scorer in Marian Hossa, and a 50+ goal scorer on the other wing, in Peter Bondra. Pavol Demitra is nothing to overlook either, putting up 25 goals and 37 assists in 58 games. This top line has no shortage of offense, and can compete with most other teams' top line.
2nd Line: '02 Ziggy Palffy – '80 Peter Stastny – '06 Marian Gaborik
Great secondary scoring, with two 30+ goal scorers on the wings, one being a budding star in Gaborik. Stastny put up great numbers in the '80 Olympics, finishing second in points. This second line bolsters powerful secondary scoring and great skating, which can help pick up any slack if the first line struggles.
3rd Line: '06 Jozef Stumpel – '98 Robert Petrovicky – '02 Miroslav Satan
Though Petrovicky couldn't stick in the NHL for most of his career, that didn't stop him from producing in the Olympics, producing 12 points in his 16 career Olympic games. Stumpel had 52 points in '06, making him a solid contributor from the third line. However, most of the offense will come from Satan, who scored 37 goals in '02, which gives Slovakia some flexibility regarding their top 6, as Satan can fill in where necessary.
4th Line: '98 Jozef Dano – '10 Michal Handzus – '10 Tomas Kopecky
This 4th line is a defensive speciality, though each of Dano, Handzus, and Kopecky can chip in with offense. Dano and Handzus both have history performing for Slovakia at the Olympics, while Kopecky has one appearance, in 2010. This 4th line lacks any amazing performers, but accomplishes what anyone wants from their 4th line; solid play at both ends of the ice.


Team Slovakia All-Time Defense: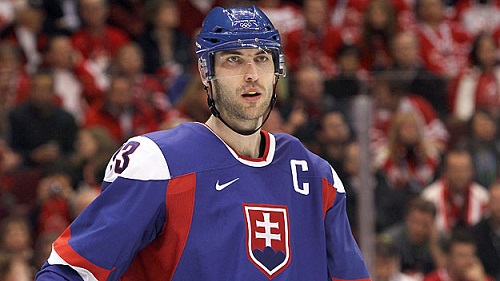 1st Pairing: '10 Zdeno Chara – '06 Lubomir Vishnovsky
Zdeno Chara had a slumping year in 2010 offensively, but is just one year removed from winning his Norris Trophy in '09. Chara provides a bona-fide #1 defenseman for Slovakia, who can dominate at both ends of the ice. His partner, Vishnovsky, had 67 points in 80 games, meaning there is no lack of scoring from this pairing.
2nd Pairing: '94 Robert Svehla – '06 Andrej Meszaros
Svehla has over a point-a-game in the SEL, and carried that success over to the '94 Olympics, adding 6 points in 8 games. Andrej Meszsaros had a career rookie year in '06, producing 10 goals and 29 assists in the year, both still remaining as career highs. While his NHL career has taken a little bit of a negative turn, the '06 Meszaros that Slovakia is getting is a reliable second-pairing guy.
3rd Pairing: '14 Andrej Sekera – '98 Lubomir Sekeras
Continuing the similar trend with the forwards, this 3rd defensive pairing does not feature any studs, but can still get the job done with limited ice time. Sekera is currently having a career year in Carolina, and Sekeras put up solid offensive numbers in Slovak Extraliga (21 points in 36 games), the only year he was selected to Team Slovakia.
Team Slovakia All-Time Goalies:
'10 Jaroslav Halak
In '10, Halak put up career numbers while splitting starts with Carey Price, but the highlight of his year was his tremendous playoff run he went on, carrying the #8 seeded Montreal Canadiens past elite teams in the Capitals and Penguins. Halak has shown to be able to carry stretches of elite goaltending, and one hot streak can be all a team needs to go far in the Olympics.
'14 Peter Budaj
Budaj is currently having a career year in Montreal. Budaj has always been a reliable backup throughout his career, nothing more, nothing less. Backups don't usually see much time in the Olympics, but should something happen to Halak, Budaj can at least hold it down for Team Slovakia.
I believe this Team Slovakia roster has a good chance at competing for a medal due to it's elite talent at all positions. The only thing this team lacks is depth, but having a 50 goal scorer and a Norris Trophy winning defenseman can make up for a lack of depth. As mentioned before, the potential of this team is unmeasurable, as this team is one hot streak from Jaroslav Halak away from winning Gold.