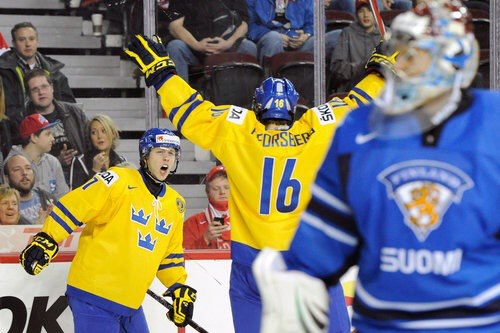 It's still early in the World Juniors Championship, but Team Sweden is wasting no time showing everyone why they're the defending champs.
Sweden has taken the lead in Group A, having played and won all 3 of their games. They've also been lucky to have a mix of strong scoring and even better goaltending, scoring 12 goals and only allowing 4 against.
In their first game of the tournament, Sweden faced the Czech Republic. They began scoring early into the game and were quickly up 3-0 by the end of the second period. After slowing down in the third, they netted one more goal before goaltender Joel Lassinantti allowed one with 6 seconds left in the game. The final score was 4-1 in Sweden's favor.
Going into their second game against Switzerland, Sweden got off to a somewhat slow start. Their first goal didn't come until halfway through the second period when Sebastian Collberg found the back of Switzerland's net. Even though Switzerland was quick to answer with their second goal of the game, Sweden wasn't deterred and netted another goal early into the third period. With the score tied at 2-2, overtime began. There was no score from either side and the game went to a shootout. Sweden's Victor Rask buried a goal to end the game with a 3-2 win.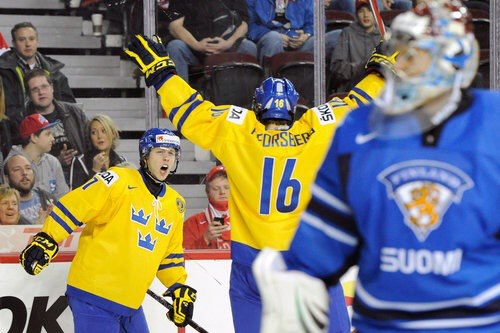 With a solid winning streak to begin the championship, Sweden entered their third game of the championship against Latvia on Saturday, December 29th. Once again, Sweden began the game with a bang and netted their first of 5 goals in the first period. While Latvia answered quickly into the second, Sweden answered, though slowly, and would not allow another goal for the rest of the game. Scoring their last 3 of 5 goals in the third period, Sweden ended their highest scoring game of the tournament with a score of 5-1.
If Sweden continues to play the way they have started this championship, they'll be in the running for another title. They have out-shot their opponents 125-78. I'm sure there's no doubt in anyone's mind that Sweden will be the team to beat during the rest of the World Juniors Championship.