Arizona Coyotes
Featured
The Arizona Coyotes are considering a move to Tempe with a proposed facility to be built there already in place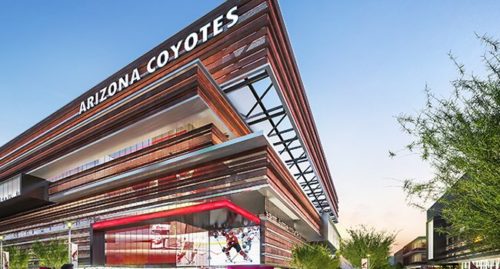 The city of Tempe wants a professional sports team to develop 46 acres of city-owned land that is currently a solid waste compost yard into a stadium or arena and an entertainment district, and the Arizona Coyotes are itching to do it.
Tempe issued a request for proposals on July 22, seeking "any professional sports franchise or entity partnered with the franchise" to develop the northeast corner of Priest Drive and Rio Salado Parkway.
This deal isn't just about a hockey rink. It would involve a huge mixed-use development.
A source with knowledge of the Coyotes thinking but asked for anonymity because of the competitive nature of the bid process that the team is working on a "multibillion-dollar" proposal.
Two new NHL arenas are under construction now in Seattle and New York, both set to cost around $1 billion.
Privately funded
Arena deals, both locally and across the country, usually get pushback from politicians and citizens because tax dollars are used to build them. But the source said that won't be the case for the Coyotes proposal. The whole project would be funded privately by team owner Alex Meruelo and his family.
Under the Coyote's proposal, which is due on Aug. 19, the city of Tempe and its taxpayers will not have any financial responsibility or liability for the arena and surrounding district.
The RFP issued by Tempe calls for a sports stadium or arena and practice facility, 1,000 residential units, 200,000 square feet of retail and restaurant space, and a large, shaded plaza with "numerous amenities."
By making the district surrounding the arena a place where people will go 365 days a year, rather than just on game days, the team is gambling that the revenue generated from the retail and residential areas would help with paying off the debt the Coyotes and Meruelo would take on. With sports betting now in play in Arizona, it's also likely that a sportsbook venue would be designed into the new arena.
Meruelo and the Coyotes will have some time to work on the proposal, if their plan is selected by Tempe. The city of Tempe has active operations on the site and said in the RFP that all proposals must allow for the city to relocate those operations to another location, no sooner than June 30, 2024. A new arena on the site may not be operational until 2026 or 2027 at the earliest.
Love Reading About Hockey?

Subscribe to keep up-to-date with the latest and most interesting hockey news!
| | |
| --- | --- |
| | We hate spam just as much as you |