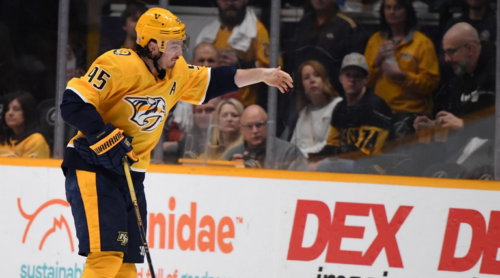 We now have more details about the severity of Nashville Predators forward Matt Duchene's injury, but be warned: this is not for the faint of heart.
On Sunday, National Hockey League analyst Darren Peng revealed that Duchene had lost a portion of his finger after being hit by a slap shot. Dante Fabbro, a Predators teammate, fired the slap shot during the second period of the Predators' game against the Toronto Maple Leafs last Sunday. Duchene immediately jumped up in pain and rushed off the ice, strangely holding his hand up; we now know the reason was that the tip of his finger was literally missing.
Here's a closer look at the shot that hit his hand:
Matt Duchene takes a slapshot off the hand pic.twitter.com/LLVwBoelmq

— Omar (@TicTacTOmar) March 26, 2023
And here's Duchene leaving the ice with his hand out:
goes right to the locker room pic.twitter.com/E20ytdhHfh

— Omar (@TicTacTOmar) March 26, 2023
According to Peng's comments on Sunday, Duchene was heard saying that when he removed his hand from the glove, the tip of his finger was still inside, which must have been a terrifying experience for Duchene.
On @NHL_On_TNT Darren Pang reported that Matt Duchene said when he took his glove off after getting hit, the tip of his finger was still in the glove. 😳

— Alex Daugherty (@AlexDaugherty1) April 2, 2023
I can only hope that Duchene recovers completely and quickly.