I don't think I'm going out on a limb when I say this, but the New York Rangers 2013-14 season is over. It's not officially over yet, but it will happen either Friday night or sometime Sunday. I generally try and be a somewhat optimistic Rangers fan and see the silver lining when things are down, and I really hope I eat crow for declaring the Rangers season dead. I know the Los Angeles Kings came back from a 0-3 deficit to San Jose last round, and the Chicago Blackhawks came back from being down 3-1 to the Red Wings in last year's playoffs. Last year's Hawks went on to win the Stanley Cup, and this year's Kings are playing an awful lot like the champions of two years ago. The Blueshirts aren't on that level right now, and have shown no signs of being able to put together three straight wins over the Penguins within the next week.
New York stole Game 1 on the road 3-2 in overtime. After blowing a 2-0 lead, Derick Brassard (and Benoit Pouliot for good measure) gave the Rangers the road victory shortly in to OT. In Game 2, Marc-Andre Fleury posted a 22 save shutout en route to a 3-0 victory (rarely being tested beyond the 2nd period), and followed that up with a 35 save shutout to take back home ice in a 2-0 Game 3 victory. The Blueshirts finally put one behind Fleury in Game 4, but their sloppy play contributed to a 4-2 loss, leaving them with a 3-1 series deficit to crawl out of.
The first thing wrong with the Rangers is obviously the power play. The Blueshirts are 3 for 44 with the man advantage (for an embarrassing 6.8% success rate), and are currently on a 0 for 36 streak. There's no way to sugarcoat their absolutely dismal performance on the power play. The Rangers have too many weapons to be this bad with the extra man. The Rangers have had the most power play opportunities of any team in the playoffs, and are ranked dead last in total percentage (the five teams ahead of them are currently playing golf). The Boston Bruins of 2011 and the Kings of 2012 proved that you don't need to be a power play juggernaut to win a championship, but what the Rangers are doing 5 on 4 right now is pathetic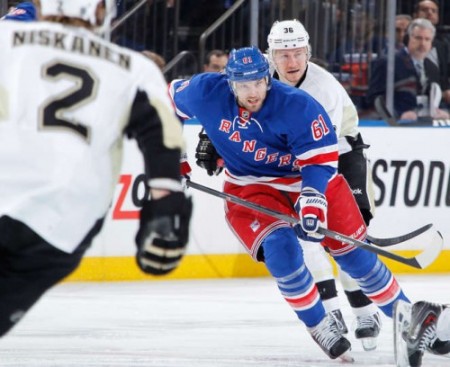 The next thing wrong with the Rangers is the lack of production from their top players. Let's start with Rick Nash. Zero goals, four assists, and leads the playoffs in shots attempted. I get that he's doing other things away from the puck that help, but he's paid to score. That's obviously easier said than done, especially in the playoffs, but if what you're doing isn't working (shots from the outside and high slot mostly), then you need to change what you're doing (he's a big guy, go pay the price and create some traffic). All of that being said, the MSG crowd booing Nash when he had the puck in Game 4 is despicable. If a team is playing poorly, and you want to boo at the end of a period or after a particularly bad stretch of play, I can get on board with that. But to jeer an individual player on your own team, while he's streaking down the wing, the same way MSG does when Sidney Crosby or Alexander Ovechkin touch the puck, is abhorrent.
Martin St. Louis and Brad Richards looked good in the series against Philadelphia, but both have gone MIA since then. The Rangers production has mostly come from their third and fourth lines. Production from the bottom two lines generally leads to playoff success, but the top six needs to produce too, and that's not happening. As for the blueline, Ryan McDonagh is clearly playing with an injury that's preventing him from playing at a top level, and Dan Girardi has looked lost in this series. Henrik Lundqvist has played well, but the idea of "Henrik has to stand on his head for the Rangers to win" (like we've seen in past playoffs) just isn't going to get it done as the playoffs move along.
If the Rangers are going to make it interesting, they have to start crashing the Penguins crease. When Mats Zuccarello scored to make it 3-2 on a weak backhand shot in the third period of Game Four, the Rangers needed to build off of that. After Fleury was made to look like Patrick Roy for two games, he finally let a bad one in. As any Penguin fan knows, when Fleury lets one bad one in, he's likely to let a couple of more in. When Chris Kunitz got that goal back for Pittsburgh right away (57 seconds later, to be exact), that window closed. The other frustrating aspect of this series is that the Penguins haven't even played that great. They haven't played poorly, but it's not like they're blowing the doors off the Rangers either. I know the Rangers had a stretch of five games in seven nights, and that would be taxing in the regular season, let alone the playoffs. But the playoffs separate the men from the boys, and the Blueshirts are currently on the wrong side of that partition.