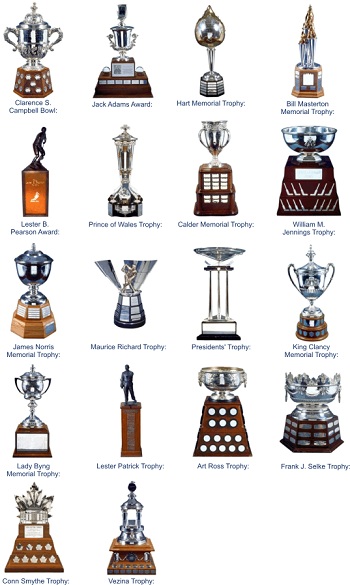 Every year the NHL honors the players of high achievement from the past season with a Las Vegas awards show in June. During the past week, the nominees for these awards were announced, sparking much controversy and debate over who made it and who did not. In this post I will offer my take on the nominees for each award this year as well as picking who should win. Then when the ceremony happens on June 20th we can come back to this article to see how well I did. First up is the Calder trophy.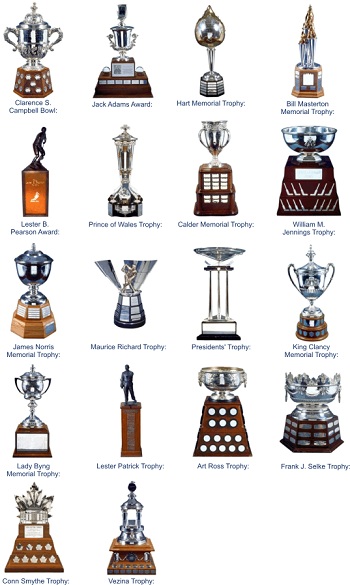 Calder Trophy – Rookie of the Year
Nominees: Ryan Nugent- Hopkins of the Edmonton Oilers, Adam Henrique of the New Jersey Devils and Gabriel Landeskog of the Colorado Avalanche.
This year's rookie of the year award is one of the tightest races in recent years. All three of these young players performed exceptionally well in top positions on their teams. Hopkins emerged as the top center on the Oilers from the very start of the season after being picked first overall last year, and if he had not suffered a shoulder injury he likely would have ran away with the scoring race. Still in only 62 games, Hopkins had 52 points which was tied with Landeskog for the league lead. Add to the fact that Hopkins played for the 29th ranked team and those numbers were pretty good. Henrique had a strong OHL career, winning two Memorial Cups playing with Taylor Hall and Cam Fowler in Windsor. Those winning ways made his transition into the big leagues a lot easier. Henrique also had the advantage of centering two of the top wingers in the NHL, Zach Parise and Ilya Kovalchuck. Playing with those two all-stars allowed Henrique to lead all rookies with 35 assists and 51 points, one shy of the rookie lead. Landeskog was the second pick behind Hopkins last year and he played an equally important role on the Avalanche's top line. Finishing with 52 points and carrying much of the load while Matt Duchene was hurt and his strong two-way game made him an affective player every night. All three of these players deserve this nomination and picking a winner was not easy. In the end though I think Nugent- Hopkins will win because of his high production with fewer games played.
Winner: Ryan Nugent-Hopkins
Selke Trophy – Top Defensive Forward
Nominees: David Backes of the St. Louis Blues, Patrice Bergeron of the Boston Bruins and Pavel Datsyuk of the Detroit Red Wings
The top-defensive forward is one of the more difficult awards to evaluate. Does the player need to be an offensive star as well as defensive? Is a player's plus/minus rating more important than his take away count or face off percentage? Regardless, the three players nominated this year are good at all of those things, so the debate will have to wait. Backes, captain of the St. Louis Blues, was both a leader as well as a top defensive forward. He showed what he was capable of when he was a surprise addition to the Team USA Olympic team. He takes face-offs, kills penalties and scores goals, including a team high 24 in the past year. Add his +15 rating and 226 hits and David Backes proved this year he is a star on both ends of the ice. Bergeron finished with the league lead with a +36 rating while also being second on the Bruins with 64 points. But his faceoff stats were the most impressive. Bergeron finished second in the league with a winning percentage of 59.3% as well as a 53.5% winning percent while shorthanded. Winning faceoffs is a big part of the defensive side of hockey and Bergeron's ability to win draws was a great asset to his team this season. Datsyuk has won the Selke three times and winning a fourth would tie Bob Gainey for the most by one player. The reason Datsyuk always gets nominated for the Selke though is his amazing ability to take away the puck. This year he was third in the league with 97 of takeaways and a big part of Datsyuk's game is watching him strip an opponent of the puck and turn the rush the other way quicker than anyone. With 67 points and a 56.2 faceoff percentage in 70 games rounding out his stats, Datsyuk once again proved to be a valuable player in both zones for Detroit. In the end though I am picking Bergeron to win. His stats prove he is a top defensive player and many people have been calling for him to win it for a few years now. I think this year he will.
Winner: Patrice Bergeron
Lady Byng Trophy – Most Gentlemanly Player
Nominees: Brian Campbell of the Florida Panthers, Matt Moulson of the New York Islanders and Jordan Eberle of the Edmonton Oilers.
This award is generally referred to as the "least amount of penalties" award and all three nominees scored a ton of points this year by not taking penalties. A defenseman hasn't won this award since 1954 but Campbell still deserves the nomination. He finished second among all defensemen with 53 points and he did it while only taking three penalties. This was considered a bounce back year for Campbell after having limited ice time in Chicago the past few years and he took full advantage of his new opportunity in Florida. Moulson finished the season with 36 goals with only six penalty minutes for the Islanders this season. Not since Paul Kariya in 1997 has a player scored more than 30 goals with less than ten penalty minutes. For all the troubles surrounding the Islanders this season, Moulson's composure and discipline were a big part in him being successful in the goal column. Eberle came close to the Kariya mark finishing the season with 34 goals and ten penalty minutes, the last two coming in the Oilers final game. Registering 76 points as a second year player and remaining disciplined during another depressing season in Edmonton, Eberle remains a bright spot in the young Oilers roster. I am picking Eberle to win the Lady Byng because of his age and his discipline while playing for the second lowest standing team.
Winner: Jordan Eberle
Masterton Trophy – Perseverance, Sportsmanship and Dedication to Hockey
Nominees: Daniel Alfredsson of the Ottawa Senators, Joffrey Lupul of the Toronto Maple Leafs and Max Pacioretty of the Montreal Canadians.
This award is given to players who have gone above and beyond to find success in the NHL, likely causing them great pain in the process. Alfredsson, at age 39, had successful back surgery last summer and returned for his 16th season even though his Senators were basement dwellers. His remarkable 27 goals and 59 points sparked a quick turnaround for the Sens who returned to the playoffs this year finishing eighth in the Eastern Conference. Lupul also suffered from back problems but he missed most of last season, while on the Anaheim Ducks, because of a blood disorder that almost ended his career. But after making a full recovery, Lupul returned and started the season strong for Toronto playing that way until an injury just past the trade deadline. In the end he finished with 25 goals and 67 points and was also named an assistant captain at the All-Star game. Pacioretty's injury last season was seen by everyone. When Zdeno Chara hit Pacioretty into the partition between the players benches during a game in Montreal, Pacioretty ended up having a fractured vertebrae in his neck and suffered a concussion. However, only five months later, he was healthy and ready to go at the start of training camp. From there he went on to have the best season of his career with 33 goals and 65 points. I am picking Pacioretty to win this award because when I saw the hit that knocked him out last season, I was certain his career was over. To have such a quick bounce back season is amazing and worthy of an award.
Winner: Max Pacioretty
Vezina Trophy – Top Goaltender
Nominees: Pekka Rinne of the Nashville Predators, Jonathan Quick of the Los Angeles Kings and Henrik Lundqvist of the New York Rangers
The top goaltender of the year is always a popular award to follow because the best goalies are not always the ones with the biggest followings. Both Quick and Rinne fall under the radar by playing in smaller hockey markets but their stats show why they were nominated. Rinne played the most games of any goalie, 73, and his 43 wins led the league. He faced the more shots than anyone else and was in the top ten in both save percentage and goals against average. Quick was the MVP for the Kings all season. Though his team finished 29th in goals scored, they still made the playoffs because of Quick's ability to keep them in games. He led the league with 10 shutouts and was in the top five in both save percentage and goals against average. Lundqvist was a major reason the Rangers finished the season atop the Eastern Conference. He won 39 of the 62 games he played in and had eight shutouts. He was in the top four of both goals against average and save percentage as well as in wins and shutouts, as the Rangers surprised everyone with their strong season. I am picking Quick to win this award though simply because without him his team would have missed the playoffs and been really far down in the standings.
Winner: Jonathan Quick
Norris Trophy – Top Defenseman
Nominees: Zdeno Chara of the Boston Bruins, Shea Weber of the Nashville Predators and Erik Karlsson of the Ottawa Senators
With Nicklas Lidstrom not getting nominated this year, it appears the Norris is moving towards the younger players now. Chara is 35 but isn't slowing down. The largest player in the league, Chara scored 12 goals and had a total of 52 points on the year. He also registered a +33 rating and threw 166 hits to balance out his defensive game. Weber had an equally strong season scoring 19 goals and 49 points including 10 powerplay goals. He also finished with a +21 rating, threw 177 hits and blocked 140 shots. Most of his 26 minutes per game of ice time were spent against opposing team's top forwards and Weber's stats show he was more than up for the task. Karlsson was a force this season, only his second in the league. His 78 points were good for 10th among all players and the most since Nicklas Lidstrom's 80 in 2006. He led all defensemen with 67 takeaways and changed last year's -30 rating to a +16 rating this season. I am picking Karlsson to win because of his pure skill and talent at such a young age. There is plenty more exciting hockey coming from him.
Winner: Erik Karlsson
Hart Trophy – Most Valuable Player to his Team
Nominees: Henrik Lundqvist of the New York Rangers, Steven Stamkos of the Tampa Bay Lightning and Evgeni Malkin of the Pittsburgh Penguins
The Hart trophy is a difficult trophy to judge because of all the factors involved. Purely by stats, Malkin and Stamkos led the league, but Lundqvist did not lead the goalie stats. Tampa Bay did not make the playoffs, which could hinder Stamkos chances of winning. Either way, all three players had remarkable seasons. Lundqvist was a big reason the Rangers won the East (as mentioned under the Vezina write up). His 39 wins and eight shutouts were very valuable to his team. Stamkos had a remarkable season which was capped off on the final day when he scored his 60th goal. Though his team did not make the playoffs his 97 points proved he tried his best to lead them there. Pittsburgh was struck by injuries all season, but Malkin was there to fill in for Crosby. He led the league with 109 points and was second with 50 goals. But he also made his teammates better, including helping winger James Neal reach 40 goals for the first time in his career. The loss of Crosby for most of the season was lessened by Malkin's stellar play and he proved that he could carry the team too. I am picking Stamkos to win this award. It is described as being the most valuable to his team and Stamkos value to his team was extremely high. He really was the only player who stepped up all year for the Lightning and he did his best to get them to the playoffs, even though they fell short.
Winner: Steven Stamkos
The NHL awards are always tough to pick and leave plenty of room for a debate; with this year being no different. I hope this article cleared up any questions regarding the players I nominated to win each award and rekindled excitement for the ceremony on June 20th when the winners are finally revealed in Las Vegas.