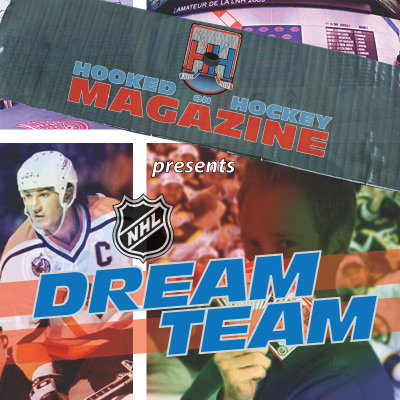 So far our team looks like this:
Starting Goalie: 2001-2002 Patrick Roy
Backup Goalie: 1993-1994 Dominik Hasek
Defensive Pairing 3: 1932-1933 Eddie Shore – ?
Defensive Pairing 2: ? – ?
Defensive Pairing 1: ? – ?
Line 4: ? – ? – ?
Line 3: ? – ? – ?
Line 2: ? – ? – ?
Line 1: ? – ? – ?
Powerplay 1: ? – ? – ? – ? – ?
Powerplay 2: ? – ? – ? – ? – ?
Penalty Kill 1: ? – ? – ? – 1932-1933 Eddie Shore
Penalty Kill 2: ? – ? – ? – ?
Head Coach: 2001-2002 Scotty Bowman
Yesterday we talked about Eddie Shore as one of our defensemen on the 3rd defensive pairing. His hard-nosed, smashing, aggressive play are going to go perfectly with his defensive partner for this series – 1956-1957 Doug Harvey.
First, a little bit about Doug Harvey. Harvey is regarded as one of the greatest puck moving defensemen in the history of the game. During Harvey's time, defensemen weren't expected to contribute offensively. Harvey completely revolutionized the position with his skating, puck-handling, and puck-moving abilities. Not only could he shut down your top line, he could move the puck quickly to get the breakout going for his team. Harvey was Orr before Orr. For all of his efforts, Harvey won 7 Norris Trophies, tied for 2nd all-time with Nicklas Lidstrom, behind only Bobby Orr's 8. He was named to 11 consecutive All-Star teams and won 6 Stanley Cups. He was the complete package on the defensive end and he also brought significant offensive abilities to the table.
The 1956-1957 version of Doug Harvey was Harvey at his very best. Harvey finished the year with 6 goals (career high), 44 assists (career high), and 50 points (career high). That season he made the All Star team, won his 3rd Norris Trophy in a row, and won the Stanley Cup. Harvey was at his very best that season in all facets of the game. Harvey led the league in defensive point shares (a metric hockey-reference.com uses to determine how much a player contributed defensively) but also led all defensemen in scoring with his 50 points. Harvey's assists (44) were more than any other defenseman had in points. In fact, only one other defenseman in the NHL even topped 35 points, the Rangers' Bill Gadsby who recorded 41. That's how dominant Harvey was in this age of the NHL.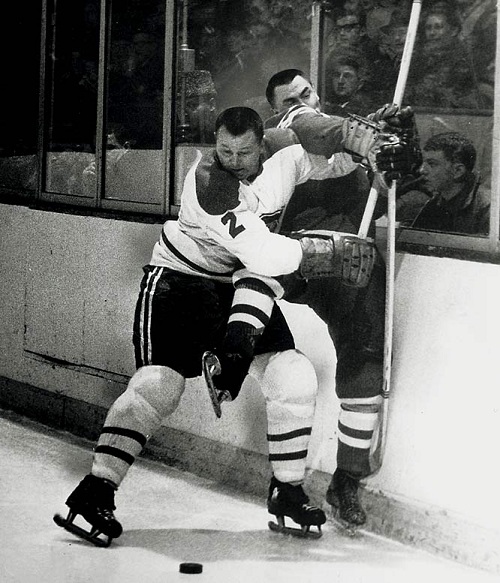 As for Harvey's role on the NHL Dream Team, it's quite obvious. Most NHL teams find that their offense tails off a bit when the 3rd defensive pairing hits the ice because they generally don't move the puck as well and they don't have as crisp of breakout passes. However, with Harvey on my 3rd pairing, I have one of the best in NHL history leading my breakouts. Because his defensive partner was the fierce Eddie Shore, Harvey wouldn't be required to go into the corners and take the beating to retrieve the puck and instead could take the initial pass from Shore and start the breakout with his speed or with the pass. This will be huge as Harvey can save the wear and tear and be allowed to start the break however he chooses. Being paired with Shore would also allow Harvey to pinch up in the play a little more, knowing that he has the speedy, but less offensive minded Shore covering him. Harvey himself also possessed a serious set of wheels and would easily be able to catch up in the play if he got caught pinching. I would also ask Harvey to quarterback my 2nd powerplay unit, his vision and skating allowing him to do things that mere mortals cannot. I would trust Harvey to make the correct initial pass to get into the zone and his left handed shot would let him play the right D spot so that he could always be in a shooting position.
Ultimately, Harvey would provide a calming presence on the back end, while providing no drop off in puck-moving ability from defensive pairings 1 and 2. He's the perfect addition to our NHL Dream Team
[youtube http://www.youtube.com/watch?v=LkcH6jsqJE0&w=420&h=315]