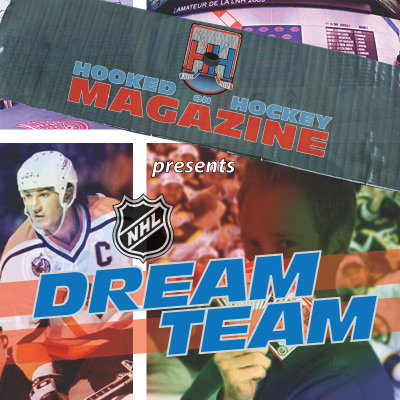 So far, we've introduced our two goalies for the Dream Team's 7 game series against the Aliens. Our roster looks like this:
Starting Goalie: 2001-2002 Patrick Roy
Backup Goalie: 1993-1994 Dominik Hasek
Defensive Pairing 3: ? – ?
Defensive Pairing 2: ? – ?
Defensive Pairing 1: ? – ?
Line 4: ? – ? – ?
Line 3: ? – ? – ?
Line 2: ? – ? – ?
Line 1: ? – ? – ?
Powerplay 1: ? – ? – ? – ? – ?
Powerplay 2: ? – ? – ? – ? – ?
Penalty Kill 1: ? – ? – ? – ?
Penalty Kill 2: ? – ? – ? – ?
Head Coach: 2001-2002 Scotty Bowman
Now, it's time to work on our defensive unit in front of our goalies. The first guy on our 3rd pairing is probably the nastiest defenseman to ever play in the NHL, and would be the last guy the Aliens would want to mess with. Meet….1932-1933 Eddie Shore.
First, a bit about Eddie Shore. Eddie Shore was a 4-time NHL MVP, 8-time NHL All Star defenseman for the Boston Bruins in the early years of the league. He was also the last guy you would want to mess with. His toughness was legendary. He had a nasty temper and was widely criticized for ending the career of Hall of Famer Ace Bailey with a vicious hit. However, he was a great skater, a good passer, and a fierce hitter. He wasn't particularly big at 5'11" 194 lbs, but as I've mentioned before, he was not a guy to mess with. There's a story going back to the 1925-1926 season where a player tried to take a run at him, hit Shore, and ended up falling down so hard that he was concussed and missed a week of play. Shore did not even fall down.
The 1932-1933 version of Shore was particularly impressive. Shore posted a career high 35 points that season while finally getting his penalty minutes under control. In his 2nd season in the NHL, Shore had a then NHL record 165 minutes, but by 1930-1931, Shore had found his "controlled aggressive state". That controlled aggression finally resulted in Shore being voted NHL MVP for the first time. Shore also posted a career high 27 assists, showing his great passing ability that was finally catching up as he rounded out his game. I wanted this version of Shore because I wanted a player that understood what his role was on the team. I didn't need the younger version that wanted to hit everything that moved. I didn't want the younger version that took a lot of stupid penalties. I wanted the more veteran savvy version that understood when to be aggressive, when to play it safe, and had the excellent offensive game.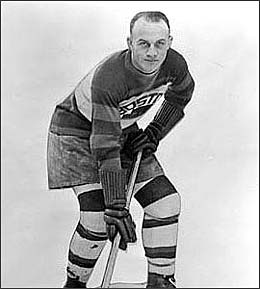 This version of Shore understood all of that and more. He was also selected because I needed an enforcer. I didn't want the Aliens to think that they could run ragged all over my team. I didn't want the Aliens to be able to be more physical than my team. I wanted a guy that literally instilled fear in every opposing forward. I wanted a guy that made opposing players cringe as he lined them up for a hit. I wanted a guy who's toughness was legendary. Can you just imagine the Aliens trying to play dump-and-chase with Shore on the ice? Who would want to go retrieve that puck? Who wants to go 1-on-1 with Shore in the corner? You want to get rough with one of my forwards? Here comes Shore to clean it up. He would be absolutely perfect as the protector of my finesse players as well as making every single Alien player pay a physical price in the corners. You can't say enough good things about Shore's toughness, heart, and physicality, and these are all things that the Aliens would absolutely have to gameplan for when coming up with their offensive strategy.
I would also ask Shore to play on my top penalty killing unit. He was very fast to go with his aggressive style and every time the Aliens decided to chip it past him on the powerplay, he would make them pay a price to retrieve it. Shore was also very tough and I imagine, if asked to block shots, Shore would do so without any problems. Blocking shots wasn't very big back in Shore's time and wasn't really big at all until the last 15 years or so, but Shore was the kind of player that would undertake such a task if asked. He would lay his body on the line for his team no problem. That's why Shore would be perfect on the top PK unit and on my team.
[youtube http://www.youtube.com/watch?v=6nWjwcWff3s&w=420&h=315]