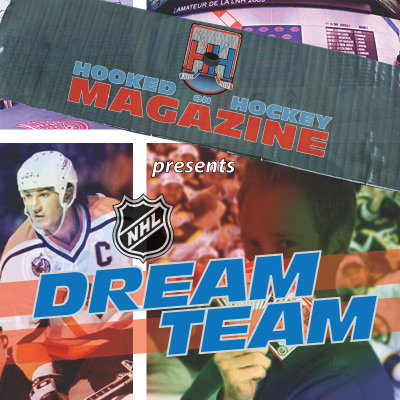 Today we will round out our NHL Dream Team's defensive corps by releasing our top pairing. We've already got an amazing combination of size, strength, and speed, but the last two guys we are adding to the defensive unit are just out of this world. Before we introduce them, let me recap our team so far for you.
Starting Goalie: 2001-2002 Patrick Roy
Backup Goalie: 1993-1994 Dominik Hasek
Defensive Pairing 3: 1932-1933 Eddie Shore – 1956-1957 Doug Harvey
Defensive Pairing 2: 1986-1987 Ray Bourque – 1998-1999 Al MacInnis
Defensive Pairing 1: ? – ?
Line 4: ? – ? – ?
Line 3: ? – ? – ?
Line 2: ? – ? – ?
Line 1: ? – ? – ?
Powerplay 1: ? – ? – ? – ? – 1998-1999 Al MacInnis
Powerplay 2: ? – ? – ? – ? – 1956-1957 Doug Harvey
Penalty Kill 1: ? – ? – ? – 1932-1933 Eddie Shore
Penalty Kill 2: ? – ? – 1986-1987 Ray Bourque – 1998-1999 Al MacInnis
Head Coach: 2001-2002 Scotty Bowman
Our top pairing includes….1970-1971 Bobby Orr and 2007-2008 Nicklas Lidstrom
First, a little bit about Bobby Orr. Orr is a 5'11" 200 lb left-handed defenseman that played for the Boston Bruins and Chicago Blackhawks in his NHL career. Orr played from 1966-1978, playing in 657 regular season games. In those 657 games, Orr racked up 270 goals, 645 assists, and 915 points. He won an NHL record 8 Norris Trophies, and all 8 were consecutive. He also was a member of 2 Stanley Cup Championship teams. He still holds several NHL records, including most points by a defenseman in a single season, most assists by a defenseman in a single season, and highest +/- in a single season. Perhaps the most impressive accomplishment of his career is winning the Hart, Norris, Art Ross, Conn Smythe, and Stanley Cup in the same season – the only player in the history of the NHL to do that. He is widely regarded as the greatest defenseman to ever play in the NHL and is often regarded as one of the top 5 players to ever play in the NHL. He is credited with revolutionizing the role of a defenseman, allowing for defenseman to become more offensive minded. His combination of fluid skating, speed, acceleration, and nose for the net is unmatched by any defenseman in the history of the game.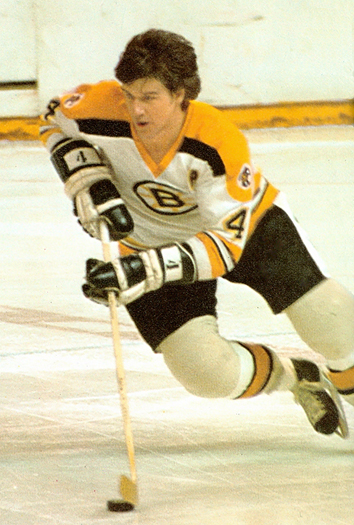 The 1970-1971 version of Bobby Orr was particularly incredible. Orr played in 78 games, recording 37 goals, 102 assists, and 139 points. He was a +124 for the year, an NHL record. He spearheaded the most prolific offense of the 1970's, leading the Bruins to 399 goals in the 78 game season. By comparison, the 2nd highest scoring team in the league scored just 291 goals. In fact, the Bruins had more than double the goal totals of two teams that season. Simply the best NHL offense of the decade. Orr was at his playmaking best this year as evidenced by his 102 assists, still an NHL record for a defenseman. Orr won the Hart and the Norris Trophy that season, the 2nd season in a row he did that. Another big thing for Orr was that he actually played the entire season. Orr was often plagued by injuries in his career, but for the 1970-1971 season, Orr's knees held up. This was Orr at the height of his powers, and at his healthiest. That was a scary combination for the rest of the NHL.
Ultimately, Orr's speed and skating ability would be game changers. His ability to lead the breakout and join the rush would put the Dream Team in favorable odd man situations almost every time up the ice. However, his acceleration was so great that even if there was a turnover, he could catchup and break up the play going the other way. He would be expected to play 25 minutes a night, with his sole focus being on creating offense. His speed would allow him to erase any mistakes he made, as well as the fact that he was playing with "The Perfect Human". Honestly, Orr couldn't ask for a better situation, and he would perform admirably. The Aliens would not know how to handle having to face constant odd-man rushes because of Orr's ability to join the rush. He would be the ultimate game changer in this series, no question about it.
A little bit about Nicklas Lidstrom. Nicklas Lidstrom is a 6'1″ 190 lb Swedish-born left-handed defenseman that played 20 years in the NHL. Lidstrom finished his career with 1,564 games played, 264 goals, 878 assists, and 1,142 points, all coming for the Detroit Red Wings. He was a member of 4 Stanley Cup teams, won 7 Norris Trophies (3 times runner-up), 1 Conn Smythe Trophy, 12 All Star Teams, and an Olympic Gold Medal. During his playing time, Nicklas Lidstrom was known for a lot of different things. He had a knack for getting his shot through to the net, no matter how much traffic there was. He had incredible hand-eye coordination that allowed him to bat down opposing teams dump-ins, making it nearly impossible for a team to enter the offensive zone cleanly. He was so good defensively with his stick that opposing forwards often felt that one-half of the ice was shut down when he was on the ice. He was known for his ability to make a 150 foot stretch pass, right on the tape. But perhaps what Nicklas Lidstrom was known for best was his positioning on defense. You rarely, if ever, caught him out of position defensively. He knew where the offensive player was going to be before they did, and would beat them to the spot. That impeccable positioning and knowledge of the game allowed him to play the game without having to be physical. Lidstrom did not have to hit and was also nearly impossible to hit because he was always 3 or 4 steps ahead of you. Finally, on the powerplay, he was one of the best powerplay QB's in the history of the game, forming a formidable tandem with Red Wings forward Tomas Holmstrom. Lidstrom would shoot the puck to an area about 15 inches off the ice and Holmstrom, standing in front of the net, would deflect the puck. This was just one of Nick's many talents. That's why Nick earned the nickname "The Perfect Human".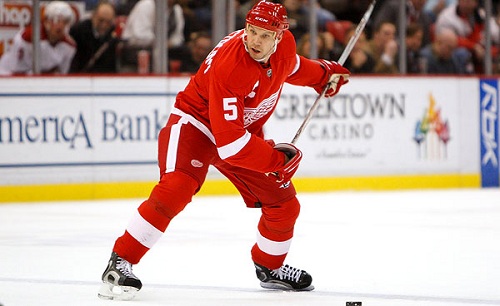 The 2007-2008 version of Nicklas Lidstrom was particularly special. He was 37 years old, but in no ways coming close to slowing down. In fact, I think that Lidstrom was at the height of his defensive powers. He submitted one of the greatest seasons ever by a defenseman, scoring 10 goals, 60 assists, 70 points, and was a +40. He did all of this while logging just under 27 minutes a night. He was so good, that he was on the ice for just 75 goals all season, including powerplay goals against. When you think about that, had Lidstrom been able to play a full 60 minutes, opposing teams would have averaged 2.20 goals per game while his team would have scored 4.12 goals a game. Think about how significant that is. Lidstrom was that good across the board this season. This season, Lidstrom also served as the captain of the Red Wings, guiding the Wings to the President's Trophy and then the Stanley Cup, becoming the first European captain to ever win the Stanley Cup. He was just too good this year, both offensively and defensively.
Nicklas Lidstrom would have played an incredible role for the all-World team. Lidstrom would play on the top defensive pairing, and would also be on the ice every time the Aliens' top line was out there. Lidstrom would also play on the top powerplay unit, using his incredible knack for getting his shot through to give us the advantage. On the penalty kill, Lidstrom would also play on the top unit with Eddie Shore, using his incredible stick skills and hand-eye coordination to make it a nightmare for the opposition's powerplay. Lidstrom would also be asked to be one of the assistant captains on the team, with his sheer excellence serving as a reminder for the players on the standard that they were being held to. More importantly, I could always count on Lidstrom to adapt to the game no matter how it was played. If the game turned into a defensive battle, Lidstrom would adjust his game, joining the rush only when necessary to ensure that we were covered. If it was a shootout, Lidstrom would be the 4th man in on the rush, with his stick ready in shooting position. You simply can't count all the ways Nick Lidstrom would help this team, with the 2007-2008 version being the most complete player I've ever witnessed.
On the Dream Team, Orr would be counted on to play heavy minutes, as he was paired with 2007-2008 Nicklas Lidstrom on the top defensive pairing. Lidstrom's stay-at-home mentality at this later point in his career would allow Orr to rush freely up the ice, not having to worry too much about getting caught. Orr would know that he has probably the best defensive defenseman in the history of the game covering him, and Orr's speed was legendary so that he would be able to catch up quickly. The way I would imagine this pairing working is that Lidstrom would do his very best to deny the entry of the puck into the zone. If the puck managed to get past him, Orr would be able to go and retrieve it and choose to outlet the puck to Lidstrom or begin the rush with his legs. One thing that was very underrated about Orr was his physical game. He was not afraid to go into the corners, to start fights, and to throw big hits. He would definitely be able to beat the opposing forwards to the puck and win most scrums in the corner. In making the first pass to Lidstrom, he would be passing the puck to the guy that was probably the best in NHL history at the breakout pass. If he chose to take it himself, he would be employing the best set of wheels that have ever played defense. Either way, I would have one of the greatest skills being put to use. I would also ask Orr to play on the 2nd powerplay unit, where he would be paired with Doug Harvey. The 1970-1971 version of Orr was on the ice for 79 powerplay goals that year, the highest total in the NHL that season. Orr didn't often do it with his shot, but his skating ability would allow for easy entry into the zone and his ability to get to the net would cause the penalty kill box to breakdown and be forced to rotate quickly. Some might wonder if Orr would be limited somewhat by Scotty Bowman's left wing lock that calls for his defenseman to be a little more responsible defensively. However, I can only point to the fact that Bowman coached some of the greatest offensive defenseman to ever play the game, from Serge Savard, to Larry Robinson, to Nicklas Lidstrom, to Paul Coffey, to Larry Murphy. So I would definitely expect Bowman to find the best way to utilize Orr and that he would allow Orr more offensive freedom, knowing that he had Nicklas Lidstrom covering before him. Together, this may the smartest defensive pairing anybody could put together. I have Bobby Orr, the greatest offensive defenseman and Nicklas Lidstrom, the greatest defensive defenseman. The perfect combination.
[youtube http://www.youtube.com/watch?v=D1fMcTq8Esk&w=420&h=315]
[youtube http://www.youtube.com/watch?v=Dy2aeLaOshQ&w=560&h=315]
[youtube http://www.youtube.com/watch?v=DQa8q6RXc_4&w=560&h=315]