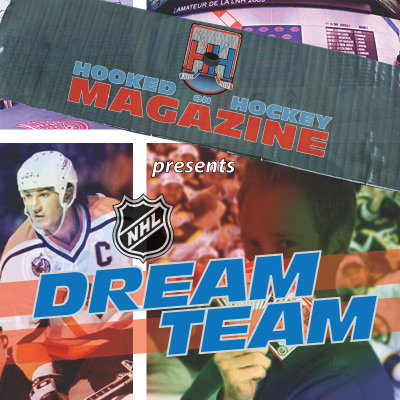 Today, I'm going to introduce my 2nd defensive pairing, two guys who I think would complement each other well while still filling vital roles on the team. Our team looks like this so far:
Starting Goalie: 2001-2002 Patrick Roy
Backup Goalie: 1993-1994 Dominik Hasek
Defensive Pairing 3: 1932-1933 Eddie Shore – 1956-1957 Doug Harvey
Defensive Pairing 2: ? – ?
Defensive Pairing 1: ? – ?
Line 4: ? – ? – ?
Line 3: ? – ? – ?
Line 2: ? – ? – ?
Line 1: ? – ? – ?
Powerplay 1: ? – ? – ? – ? – ?
Powerplay 2: ? – ? – ? – ? – 1956-1957 Doug Harvey
Penalty Kill 1: ? – ? – ? – 1932-1933 Eddie Shore
Penalty Kill 2: ? – ? – ? – ?
Head Coach: 2001-2002 Scotty Bowman
Our 2nd defensive pairing consists of…1986-1987 Ray Bourque and 1998-1999 Al MacInnis
First, a bit about Ray Bourque. Ray Bourque is a 5'11" 220 lb left-handed defenseman that played from 1979-2001 in the NHL. Bourque played 21 years for the Boston Bruins before being dealt to the Colorado Avalanche in March of 2000 to give him a final shot at winning a Stanley Cup. For his career, Bourque played in 1,612 games (3rd all time), scoring 410 goals (1st among defensemen), 1,169 assists, and 1,579 points (1st among defensemen). He won 5 Norris Trophies in his career, 1 Stanley Cup, played in 19 consecutive all star games (1st all time), and is the NHL's all time leader in shots on goal. Bourque also ranks 3rd all time in career +/-, at +528. Bourque also appeared in 214 playoff games, scoring 41 goals, 139 assists, and 180 points. He was an exceptional all around defenseman that could shut you down on defense, and then race up the ice to lead the offensive attack. Perhaps what Bourque was known best for was his accurate shot. He was so good at getting the puck through traffic because he could put the puck wherever he wanted. In the All Star game skills events it showed, as Bourque was able to go 4 for 4 on the accuracy targets.
Bourque in 1986-1987 was something special. He recorded 23 goals, 72 assists, and 95 points. He was a +44, led the NHL in shots on goal, an NHL All Star, and won his 1st Norris Trophy. He was head and shoulders better than any other defenseman that year, both offensively and defensively. Unfortunately for us, the NHL didn't track takeaways back in Bourque's day, but he was notorious for being one of the best at it and he was at the height of his powers in the 1986-1987 season. He led the Bruins into the playoffs where they were swept by the Canadiens. Bourque was still solid in that series, posting a goal, 2 assists, and 22 shots on goal. In 1987 Bourque also helped lead Canada to the gold medal in the Canada Cup. He did it all that season and was just beginning his reign of terror over the NHL.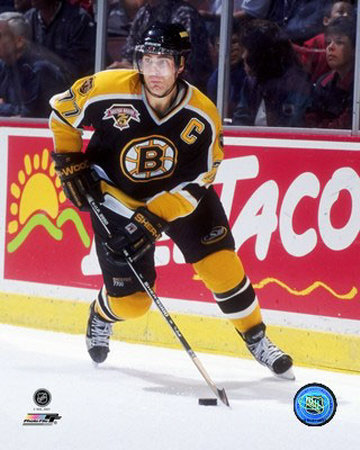 The selection of Bourque should be a no-brainer for everybody. An amazing offensive defenseman that had incredible defensive skills and always was in perfect position. I would never have to worry about Bourque running himself out of position and giving up odd-man rushes. The reason I selected 1986-1987 Bourque was because of his experience, and his reduction in penalty minutes. Early in his career he was victimized for a lot of the "lazy" penalties, such as hooking and tripping as he adjusted to the game. Once he got his game going, he reduced his penalty minutes to a more manageable number. In 1986-1987 he was particularly effective, recording just 36 penalty minutes. On my team, I would ask Bourque to play on my 2nd penalty kill unit with Al MacInnis as well as logging about 20 minutes a night. I wanted to insert him on the 2nd powerplay, but a couple of the guys I have ahead of him are a little better suited for it. I'd rather Bourque get more of his minutes at even strength where he's one of the better positional players. I think his skating, his vision, and his accurate shot would prove to be difficult things for the Aliens to gameplan for.
A little bit about MacInnis. Al MacInnis is a 6'1″ 204 lb right handed defensemen that played in the NHL from 1982-2003. MacInnis played for both the Calgary Flames and St. Louis Blues during his outstanding career. For his career, MacInnis played in 1,416 games, scored 340 goals, 934 assists, and 1,274 points. MacInnis also played in 12 All-Star Games, won 1 Norris Trophy (1999), 1 Stanley Cup (1989) and was the Conn Smythe Winner during that Cup run (1989). MacInnis also became just the 4th defenseman to record a 100 point season with his 103 points in the 1990-1991 season and just the 6th defenseman to record 1,000 points in the 1997-1998 season. Perhaps what MacInnis was known best for was his slapshot. It was a fearsome slapshot with a nasty reputation. There's a story on how January 17th, 1984 MacInnis took a slapshot from outside of the defensive zone. The shot hit goaltender Mike Liut in the mask, splitting it, while the puck fell into the net. At the 55 second mark of the video below, you'll actually see a slapshot that MacInnis took that was so hard that it went through the glove of goalie Jocelyn Thibault, broke his finger, and went into the net. His slapshot was legendary and on the powerplay it was an absolute nightmare.
Now, a little bit about MacInnis' 1998-1999 season. At this point in time, MacInnis was getting older, now 35 years of age. However, in my opinion, this was the best season MacInnis turned in from an all-around standpoint. MacInnis recorded 20 goals, 42 assists, 62 points, and was a +33 while playing an insane 29:07 a night. Imagine being 35 years old, playing half of the game, playing against the top players of the game, and still coming away with a +33. MacInnis was also his usual nightmare-self on the powerplay, scoring 11 powerplay goals that year. MacInnis also played a significant amount of shorthanded time and even scored 2 shorthanded goals that year. That was part of the beauty of Al MacInnis that season. He did everything the Blues needed and more. He led the Blues into the playoffs, where they fell in the 2nd round in 6 games to the eventual champion Dallas Stars. MacInnis averaged an even more insane 35:04/game in the playoffs. He was asked to do everything and did everything, never with any issue.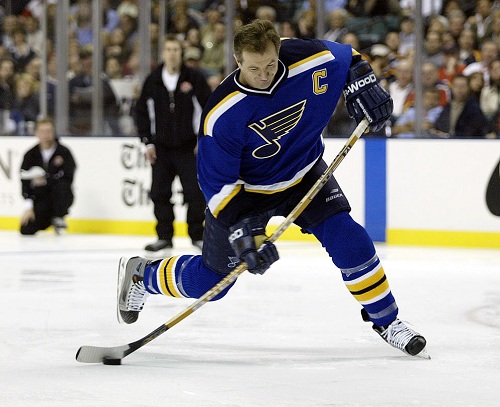 On the galactic super team, I would expect MacInnis to be the rock on my 2nd pairing, allowing his partner to jump up and join the rush when needed. MacInnis early on his career was not considered a good skater, getting the nickname "Chopper". However, by the 1998-1999 season, MacInnis had improved his skating dramatically and could cover all areas on the ice. He offered great breakout passes, and had a fearsome but accurate slapshot. Perhaps the most important reason that MacInnis is on this team is because I needed the right-handed shot on the powerplay. Can you imagine any of the Alien players dropping down to block that shot? I don't think so. Couple that with the fact that he could be extremely accurate with it, and there was really no other choice for right-handed defensemen. I was thinking about which defenseman would offer me the best success on the powerplay and I could only think of MacInnis. Having his right-handed shot on the powerplay will allow me to always have both my men at the point always in shooting position. That's why he got this spot over other excellent defensemen such as Paul Coffey, Scott Stevens, Scott Niedermayer, Chris Pronger, and Serge Savard. I wanted that booming right-handed shot on the powerplay, his ability to kill penalties, and his ability to log a significant amount of ice time if another one of my defenseman went down. Therefore, I'd use MacInnis on my 2nd defensive pairing, my 1st powerplay unit, and my 2nd penalty unit.
Combine, Bourque and MacInnis would be a nightmare for the Alien team. These two guys were so skilled offensively but also very sound defensively. MacInnis at this point in his career was no longer the run and gun offensive guy but was more willing to stay at home and just unleash his bomb from the point. Bourque would be able to pinch up a little more and use his speed to recover if he ever got caught. Both of their hockey IQ's were off the charts so I'd expect them to always make the correct first pass. Working in the defensive zone, both MacInnis and Bourque were big enough and strong enough to win battles in the corners and they could also hit pretty well. It would be a long day for the Aliens with these two guys out there.
[youtube http://www.youtube.com/watch?v=79R879d10m4&w=560&h=315] [youtube http://www.youtube.com/watch?v=MErG8t2YIbk&w=420&h=315]