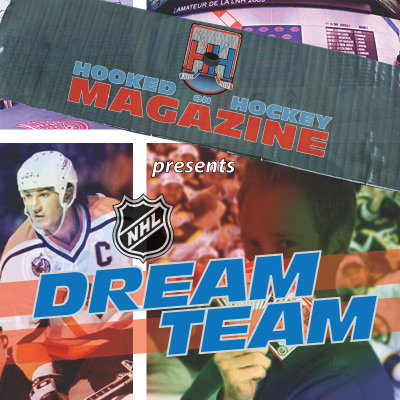 Today we'll talk about some of the notable defensemen we had to leave off of the roster. To recap, here's the 6 defensemen we selected
Defensive Pairing 1: 1970-1971 Bobby Orr – 2007-2008 Nicklas Lidstrom
Defensive Pairing 2: 1986-1987 Ray Bourque – 1998-1999 Al MacInnis
Defensive Pairing 3: 1932-1933 Eddie Shore – 1956-1957 Doug Harvey
Here are the notable omissions and why they missed the cut:
– Paul Coffey – Coffey was a great powerplay specialist and a great offensive defenseman. He was a guy I wanted to include on this team because he was a great offensive playmaker from the defensive position. However, I already had the better version of him in Bobby Orr, and Coffey was not as responsible defensively as a guy like Nicklas Lidstrom or Ray Bourque. While the offense would have been a plus, I can get comparable offensive contributions from Lidstrom and Bourque without sacrificing defense. Coffey also was a left-handed shot, and that's why I selected MacInnis over him. I absolutely wanted the MacInnis right-handed bomb on my powerplay, and Coffey was a casualty.
– Denis Potvin – Potvin was the hardest guy for me to leave off of this defensive unit. At 6'0″ 205 lbs, he possessed ideal size, was a great hitter, a great leader, and contributed a significant amount offensively. However, he ranks behind Lidstrom, Bourque, Orr, and Harvey in terms of offensive defensemen. That left him taking either Shore's or MacInnis' spot. As mentioned previously, I wanted the MacInnis right-handed shot for the powerplay and Potvin was another lefty. I also wanted Shore's toughness, intimidation factor, and hitting because if the game got chippy, I needed a guy that instilled fear in the eyes of the opposition. So Potvin had to become a casualty.
– Scott Stevens – Stevens was a legendary hitter and I was so close to picking him over MacInnis and pairing him with Eddie Shore to form a "Smash Brothers" defensive pairing. Boy would that have been something. However, Stevens was a little more limited offensively when compared to these other guys and again had a left-handed shot. Too many times, I've seen the 2 lefties on the point on the powerplay make it easier to defend because one of the defensemen is always out of shooting position. He would have been a scary sight though playing next to Shore.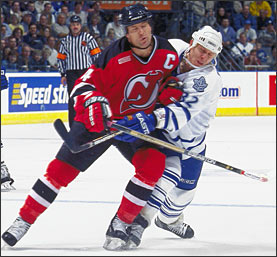 – Borje Salming – Salming was one of the toughest dudes around. "The King" was one nasty dude to get into an altercation with, but he was also one of the premier offensive defensemen of his era. He actually made the Toronto Maple Leafs watchable. However, he simply was not good enough offensively or defensively to take away a spot from any of the 6 guys selected. He didn't have that unique talent that I absolutely had to have and again, he was a left-handed shot.
– Larry Robinson – Larry Robinson was as skilled as they come and was one of the best defensemen to ever play in the NHL. His +/- record will never be touched. He had ideal size at 6'4″ 225 lbs and did everything well, but he was not exceptional offensively or defensively in comparison to the other players on this roster. He was a great overall player, but not exceptional offensively or defensively in comparison and thus he had to get the axe. Oh, and he was a left-handed shot.
– Chris Chelios – FINALLY another guy with a right-handed shot. However, Chelios' main attribute was his longevity and for this team, that's not what I wanted. I didn't need sustained excellent play; I needed outstanding individual seasons. There wasn't one individual season of Chris Chelios that stood out to me as worthy of this team. Yes he did have the right-handed shot, but it didn't compare to the MacInnis bomb. I wish I could have kept him for his hitting, toughness, and leadership, but ultimately I had to go with MacInnis as my right-handed defenseman simply because of his shot.