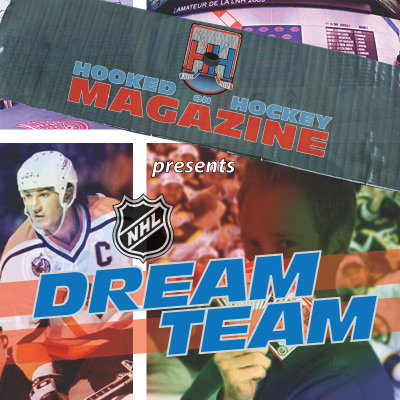 The NHL Dream Team's roster is slowly taking shape in preparation for the 7 game series against the Aliens. Our squad looks like this so far:
Starting Goalie: 2001-2002 Patrick Roy
Backup Goalie: 1993-1994 Dominik Hasek
Defensive Pairing 3: 1932-1933 Eddie Shore – 1956-1957 Doug Harvey
Defensive Pairing 2: 1986-1987 Ray Bourque – 1998-1999 Al MacInnis
Defensive Pairing 1: 1970-1971 Bobby Orr – 2007-2008 Nicklas Lidstrom
Line 4: 1978-1979 Bob Gainey – 1999-2000 Steve Yzerman – 1989-1990 Cam Neely
Line 3: ? – ? – ?
Line 2: ? – ? – ?
Line 1: ? – ? – ?
Powerplay 1: ? – ? – 1989-1990 Cam Neely – 2007-2008 Nicklas Lidstrom – 1998-1999 Al MacInnis
Powerplay 2: ? – ? – ? – 1970-1971 Bobby Orr – 1956-1957 Doug Harvey
Penalty Kill 1: 1978-1979 Bob Gainey – 1999-2000 Steve Yzerman – 2007-2008 Nicklas Lidstrom – 1932-1933 Eddie Shore
Penalty Kill 2: ? – 1989-1990 Cam Neely – 1986-1987 Ray Bourque – 1998-1999 Al MacInnis
Head Coach – 2001-2002 Scotty Bowman
Today, we'll introduce our 3rd line, another tough defensive, but offensively capable line…1958-1959 Dickie Moore – 1978-1979 Bryan Trottier – 1977-1978 Lanny McDonald.
First, a little bit about Lanny McDonald. McDonald is a 6'0″ 195 lb right handed right winger from Hanna, Alberta, Canada. McDonald played 16 years in the NHL for the Toronto Maple Leafs, Colorado Rockies, and Calgary Flames. In that time, McDonald appeared in 1,111 games, scoring 500 goals, 506 assists, and 1,006 points. McDonald was a member of 1 Stanley Cup Championship team in 1988-1989 with the Calgary Flames. On an individual level, McDonald played in 4 All Star games, and won the Bill Masterton Award and the King Clancy award. He was known for his big booming shot off the right wing as well as his fluid skating and physical play.
The 1977-1978 version of McDonald was an early version, one that was just establishing himself as a dominant scorer. McDonald broke into the NHL in 1973-1974, and had very high expectations from the start. When he scored only 31 goals in his first 2 seasons, he nearly got the boot from Toronto. However, in the 1975-1976 season, McDonald rediscovered his scoring touch, scoring 37 goals, 56 assists, and what would be a career high 93 points. By the 1977-1978 season, McDonald had racked up 114 career goals and was firmly entrenched as a big time scorer. McDonald kept up that reputation, scoring a career high 47 goals to go along with 40 assists. More importantly, McDonald also submitted a career high +34, showing some improvement in his defensive play. He finally was approaching the all-around game that most felt he should play.
A little bit about Dickie Moore. Dickie Moore is a 5'10" 168 lb left handed left winger from Montreal. Moore played 14 years in the NHL for the Montreal Canadiens, Toronto Maple Leafs, and St. Louis Blues. In that time, Moore appeared in 719 games, scoring 261 goals, 347 assists, and 608 points. Moore was a member of 6 Stanley Cup championship teams for the Montreal Canadiens. Individually, Moore played in 6 All-Star games, led the league in scoring twice, and was a 1st-team NHL All Star twice. Dickie Moore was known for his great stickhandling ability and his ability to get off a quick, accurate shot in traffic. He was also known for his impeccable work ethic, his attitude, and his love for the game. That allowed him to finish in the top 3 in goals scored 3 times in a 4 year span.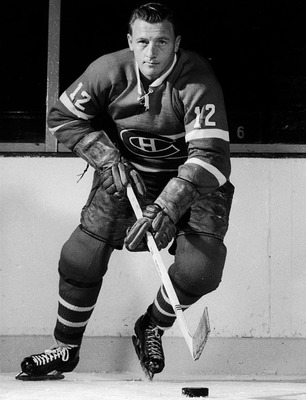 The 1958-1959 version of Moore was Moore at his best in terms of goal scoring. Moore scored a career high 41 goals and 96 points in just 70 games. If you extrapolate those totals over an 82 game season, Moore would have scored 48 goals and 112 points, incredible numbers for that day and age. Regardless, the 96 points was an NHL record, breaking the record held by Gordie Howe. Moore's record stood for 7 years, until Bobby Hull broke the mark in 1965-1966. In the playoffs that year, Moore scored 5 goals and 17 points in 11 games, leading the Canadiens to their 4th consecutive Stanley Cup. He was a blur on the ice, with his speed letting him blow by defensemen. After beating the defense, Moore possessed one of the most accurate shots in the history of the game, allowing him to score goals on shots that most couldn't. He was an offensive dynamo that was hard to steal the puck from. Some of you may be surprised by the selection of Moore. For those that are, all I can say is please watch the video of Moore below and you'll gain a great appreciation for the way he played.
A little bit about Bryan Trottier. Trottier is a 5'11" 195 lb left handed centerman from Saskatchewan. Trottier played 18 seasons in the NHL for the New York Islanders and the Pittsburgh Penguins. In that time, Trottier appeared in 1,279 games, scoring 524 goals, 901 assists, and 1,425 points. Trottier played for 6 Stanley Cup Champion teams, winning the Conn Smythe in the 1979-1980 season. Individually, Trottier appeared in 8 All-Star games, and won the Calder, Art Ross, Hart, and King Clancy Trophies at various points in his career. He finished in the top 5 in goals for twice in the NHL, but also finished in the top 10 in +/- 5 times in his career and is in the top 10 in career +/-. He was known for his superb two-way play in an era when the game was starting to open up offensively.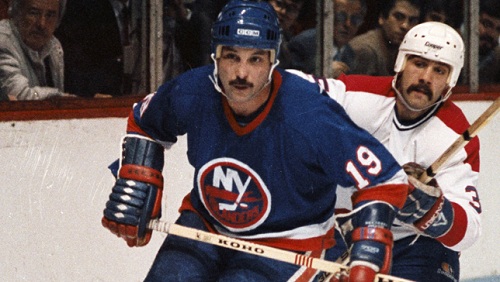 The 1978-1979 version of Trottier was Trottier at his very best. Trottier scored 47 goals and 87 assists for a career high 134 points. Trottier also led the league in +/- with an insane +76. That season, Trottier was on the ice for a whopping 189 goals, but was only on the ice for 51 goals against. Think about that. If Trottier was able to play a full 60 minutes, teams would score just 1.87 goals a game while his team would score 6.92 goals a game. Just let that sink in for a second. That's how much of an impact Trottier had on the game that season. You can see why he is regarded as one of the greatest 2-way players in the history of the game. He was recognized for his work by winning both the Art Ross as the scoring champion and the Hart Trophy as the MVP. He only fell short to Bob Gainey in the race for the Selke Trophy for best defensive forward. He truly was the most complete player of the era.
On the NHL Dream Team, this line would be another nightmare line for the Aliens. This line had speed, hitting, and incredible offensive and defensive capabilities. Moore was one of the fastest and smoothest skaters in the NHL. McDonald could hit, play in the corners, and score dirty goals. Trottier was the complete package of speed, strength, and hockey IQ. This line would also be able to matchup defensively against any of the Aliens' top lines, but they would be able to provide a little more offense. I would imagine this line working with McDonald retrieving the puck in the corners and punishing players when he's there. Moore would use his speed and playmaking abilities to carry the puck up the ice and start a rush if he sensed the opportunity. Moore wasn't the biggest guy, but he had a never quit attitude. He was one of the hardest-working players in NHL history. Trottier would also be able to carry the puck up the ice, using his IQ and vision to make the perfect pass when entering the zone. I don't think the Aliens would be ready for this combination of hitting, speed, and playmaking. This line could also control the puck and almost play keep-away with the Aliens. Moore was so tough to catch and so tough to get the puck from. Same with Trottier. As soon as you got the puck back, these guys were like hounds chasing after you to get it back. It would be a fun line to watch for sure. Offensively, Trottier would be the setup man for McDonald and Moore in the same way that he dished to Mike Bossy. I don't have faceoff numbers for Trottier but from what I've read and watched, he was an excellent faceoff man and I would expect my team to start with the puck almost every time. That would allow these guys to kill at least 10-15 seconds of every shift . Again, these guys weren't going to be counted on to be my primary scorers, so the focus on defense and puck possession is far more important. These guys are going to be up to the challenge.
Individually, I'd ask these guys to take on some other responsibilities.
Trottier – Wear the "A" on his sweater. Trottier, the player Yzerman idolized growing up, would be perfect in complementing Yzerman's leadership. Trottier would also play on the 2nd penalty kill, using his faceoff abilities and defensive instincts to help kill the penalty.
McDonald – Wouldn't be asked to play any special teams, but he would be asked to focus more on hitting and gritty play than scoring while playing on the 3rd line. McDonald was a team-first player and would be more than willing to help in any way.
Moore – Moore also would not be asked to play special teams, but he would be asked to use his speed and accurate wrist shot to burn the Aliens when the 3rd line did get a chance to play offensively. Moore was a hard-working, team-first player and would be more than willing to do anything.
[youtube http://www.youtube.com/watch?v=rEFHqtf9As0&w=420&h=315]
[youtube http://www.youtube.com/watch?v=hN0MczpIeDo&w=420&h=315]
[youtube http://www.youtube.com/watch?v=7lpEKD5Rd30&w=420&h=315]