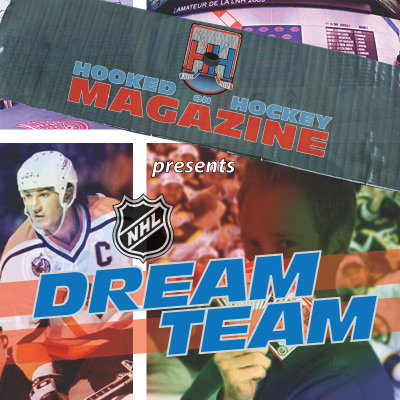 Today is our backup goalie…1993-1994 Dominik Hasek.
Today, Hasek is retired, having been unsuccessful in his attempt at a comeback this past year. We know he's a surefire Hall of Famer, one of the best goaltenders of all time. But back in 1993-1994, Hasek was just beginning to strut his game, but had already made a name for himself as a goaltender to be reckoned with.
Coming off of the 1992-1993 season, Hasek was elevated to starting goaltender for the Buffalo Sabres. Hasek had only played 3 seasons in the NHL at the time, but had already played in a Stanley Cup Finals and had big game experience. That season, Hasek was magnificent, posting a 30-20-6 record with 7 shutouts, a 1.95 GAA and a .930 SV%. Hasek won the Vezina Trophy as the best goaltender in the NHL, finished runner up for the Hart Trophy (MVP), and won the Jennings award for fewest goals allowed by a team. Hasek got even better that postseason, posting a 1.61 GAA and a .950 SV%. This was the first extended look that the NHL got at Hasek as he had been a backup thus far in his career and boy was he scary good.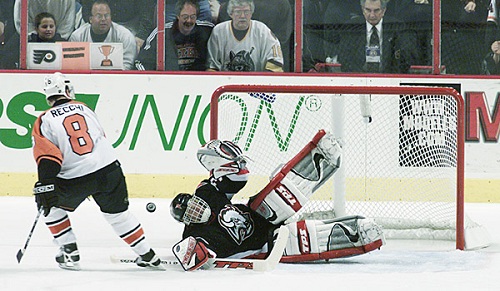 This wasn't the best version of Hasek in his career. He had better seasons, such as 1997-1998 where he played 72 games, went 33-23-13 with a 2.09 GAA, a .932 SV%, 13 shutouts, and won the Vezina, the Hart, and the Ted Lindsay trophies. But we didn't need that version of Hasek. That version of Hasek had already begun to develop a bit of his character and ego. I wanted the Hasek that still felt like he had to prove something. He wouldn't be counted on as the starter in the series, but if our starter ever went down, I wanted a goalie to come in that felt like he had to prove something and could turn in the game of his life. I also felt that the younger Hasek would have been more content to sit on the bench, not having truly established himself as the real deal yet.
He narrowly beat out other netminders such as Martin Brodeur, Glenn Hall and Ken Dryden because of his unorthodox style. I wanted a goaltender that had to be game-planned for as my backup. He would get into other players' heads because you never knew how he would stop the shot and it would frustrate them to no end. This is why the 1993-1994 version of Dominik Hasek would be perfect as my backup goaltender. He was a goalie that had a chip on his shoulder, had something to prove, but his ego was not too big that it would disrupt team chemistry.
[youtube http://www.youtube.com/watch?v=EiTCzV0F0O4&w=560&h=315]