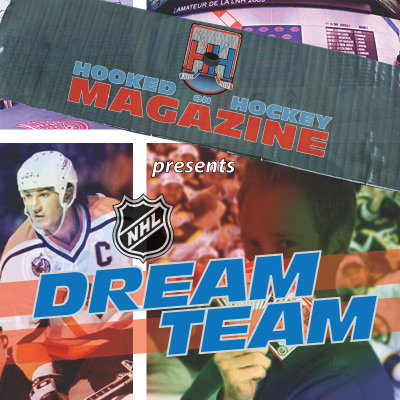 Today, HOHM is going to start a new segment that is sure to incite a lot of debate. The other day I was reading Bill Simmons' "The Book of Basketball" and I came across an interesting chapter. The premise of the chapter was that Earth was about to be invaded by aliens and they were requesting to play the best basketball team we could put together in a 7 game series for galactic supremacy. You had to pick not just the player, but the particular season/version of a player that would be most compatible for a team. So for basketball, you couldn't say Michael Jordan, you had to say 1995-1996 Michael Jordan because you wanted that version of him. That got me thinking…what if the same concept was applied to hockey? What would Earth's best team look like? What if we got tasked with creating the NHL Dream Team?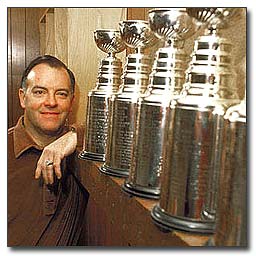 Over the next 21 days we will release the 20 skaters (12 forwards, 6 defensemen, 2 goalies) we want most plus our head coach. I'll detail a little bit about that season from the player plus the role they would play on our galactic super team. With the forwards, we took 4 centers, 4 left wingers, and 4 right wingers. There was no conversion of centers to wingers or vice versa. We wanted players in their natural positions. Also, we were concerned about team chemistry, line chemistry, how well players would play with each other, how they would play in our coach's system, and so many other factors. It came down to so much more than just selecting the 20 best players. Would 2005-2006 Martin Brodeur really be ok being a backup? Would there be enough puck to go around for 1977-1978 Guy Lafleur and 1985-1986 Wayne Gretzky to play on the same line? Who would be on our shutdown line against the the aliens' top line? All of that was taken in to consideration and more. We will start on day 1 by releasing head coach. The rest of the schedule is as follows:
Day 2 – Backup Goalie
Day 3 – Starting Goalie
Day 4-5 – Defensive pairing 3
Day 6-7 – Defensive pairing 2
Day 8-9 – Defensive pairing 1
Day 10-12 – 4th line
Day 13-15 – 3rd line
Day 16-18 – 2nd line
Day 19-21 – 1st line
Along the way we'd love your comments as to whether or not you like our selections or who you would have picked instead! Today is our head coach…2001-2002 Scotty Bowman.
First, a little bit about Scotty Bowman. Bowman coached 2,164 games for the St. Louis Blues, Montreal Canadiens, Buffalo Sabres, Pittsburgh Penguins, and Detroit Red Wings. Bowman coached across 5 different decades, from 1967-1968 until 2oo1-2002. In that time, Bowman racked up an NHL record 1,248 regular season wins. Bowman's teams appeared in the playoffs in 28 of the 30 seasons he coached, where he racked up 223 wins and an NHL record 9 Stanley Cup Champions. He was known for his relentless coaching style and his incredible tactical skills. These skills allowed him to coach even the best players and keep their egos grounded. He always pushed his players to achieve the most they could, always keeping them hungry, never allowing them to feel satisfied. He was a master at motivating all types of players and was widely recognized for that.
The 2001-2002 version of Bowman was particularly special. Bowman was blessed with an enormous amount of talent on his Detroit Red Wings squad. He had Hall of Famers and All Stars left and right. Steve Yzerman, Brendan Shanahan, Igor Larionov, Luc Robitaille, Nicklas Lidstrom, Brett Hull, Dominik Hasek, Sergei Fedorov, Chris Chelios, and Pavel Datsyuk. This was one of Bowman's best coaching jobs. How was he going to manage all of these superstar egos and keep them motivated and focused on the prize? A majority of the team had already won the Stanley Cup with just a few players missing rings on that team. This was Bowman's greatest motivational job and managing job of his career.
On this superstar NHL Dream Team, the management of egos will be extremely important. Guys that are used to playing 22-25 minutes a night may only get 16-18. Guys on the 4th line won't get more than 12-15 minutes a night, even though they are NHL superstars. This team will need a coach that can keep all of these players happy as well as having their respect. Bowman's 9 Stanley Cup rings will immediately earn him the respect of every man in the dressing room. Strategically, Bowman will be bringing his patented left-wing lock to the team, and therefore the players that are taken afterwards will have to be educated in his system. The players we selected for this team are not only Hall of Fame, All-World players, but they are good fits for Bowman's left-wing lock system that demands defensive responsibilities of his left wingers and forcers his centers and right wingers to forecheck effectively. It is this defensive system that will prove to be frustrating for the Aliens and hopefully will allow the NHL Dream Team to force many turnovers.
Ultimately, Bowman was the perfect fit to coach this team, with the necessary credentials, the strategy, and the motivational tactics. I think this was almost a no-brainer with the only other feasible options being Al Arbour and Toe Blake. However, I knew that I would need a coach that could manage egos, Hall of Famers, and could command the respect of every man in the dressing room. That man was the 2001-2002 version of William "Scotty" Bowman.
[youtube http://www.youtube.com/watch?v=aa4sz-uR2GI&w=420&h=315]