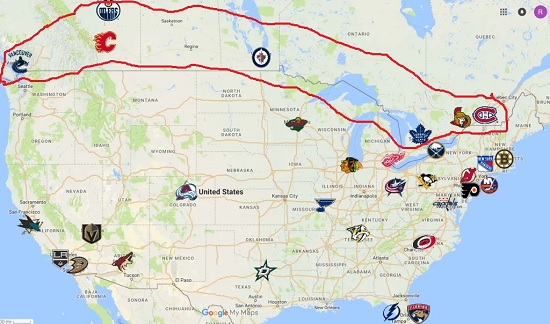 As of now, the NHL and NHLPA are talking. The NHLPA is talking among themselves, getting all on the same page to figure out how, when and under what circumstances the league will come back.
The sticking point, as it often is in complex labor negotiations, boils down to a simple concept. Money.
How much will players get paid? The NHLPA thought this issue was resolved with the July CBA extension. From Elliotte Friedman:
As the NHL and NHLPA began grinding away at the 2020-21 NHL schedule, both sides knew at some point there would be a conversation about salaries. In last summer's collective bargaining agreement, the players agreed to collect 72 per cent of their gross pay for the upcoming season — a 10 per cent deferment, and 20 per cent escrow. In their eyes, that was the deal, whether they played one game or 82.

But, with full arenas far from reality, team owners did not like that and raised the idea of pro-rated salaries.

The players want to play, and the NHL — led by commissioner Gary Bettman — wants to get going. Aside from COVID-19 itself, this was going to be the biggest hurdle.
The NY Post's Larry Brooks had more on Tuesday night:
If the league remains fixed on a starting date on or around Jan. 1, as still appears to be the case, then movement between the league and the players association is required sometime soon. The league is prepared for a 14-day training camp to precede the regular season, which likely would consist of between 48 and 60 games.

If camps begin the second or third week of December (the seven clubs that did not participate in the summer tournament will be granted additional time on the ice), travel plans and protocols must be established within the next couple of weeks.

Negotiated realignment, regional play and a baseball-type schedule are anticipated for the season once the league and players settle on an economic framework for 2020-21
At this point, the NHL wants players to defer 12% more of their 2020-21 salaries to make the math work, which would drop an NHL player's take home pay to about 62% of the actual money that their "guaranteed" contracts are written for. As of Wednesday night, that looks to be the major hurdle as to if the players will agree to this, or at least what other concessions they might gain if they do.
NHLPA Board call wrapped up around 6:30 pm ET, went about 2 1/2 hours. No votes taken. Just a discussion. But sources say feeling on the call was that players aren't keen on changing salary deferral/escrow rates from what was already agreed to in June CBA. More discussion needed

— Pierre LeBrun (@PierreVLeBrun) November 18, 2020
The NHL views this as a timing issue. The players are only entitled to 50 % of HRR. The more they take this year, the more they owe (in debt payments) in future years. Which is true. But the NHLPA factored all those factors when it agreed to the new CBA terms in June. So…

— Pierre LeBrun (@PierreVLeBrun) November 19, 2020
Bottom line, more discussion ahead for both the NHLPA internally (whether or not they're ultimately willing to tweak salary deferral and if so, what do they get in return?); and more NHL/NHLPA discussion. The clock is ticking.

— Pierre LeBrun (@PierreVLeBrun) November 19, 2020
Beyond this hurdle to clear, it looks like the following is more or less coming into focus between tying together the common threads from reports like LeBrun, Friedman and Brooks have done.
The NHL season will start either on January 1st or sometime soon after
All seven Canadians team will compose one division, the other 24 American teams will split into three divisions
Perhaps up to 60 games, with teams expected to play strictly in their division
The NHL might look a bit like MLB scheduling with teams potentially playing two straight games in what cities they travel to, probably in empty arenas at least for the start of the season but with the hope that at least partially fans will be admitted as allowed and possible
Playoffs will start by mid-May and the league will conclude with the Stanley Cup by mid-July
A lot of those details still have to come to resolution and plans must be made, but that looks how the rough pieces are forming at this point, with surely some changes and alterations along the way.
The negotiating, specifically with money, isn't fun, but like Friedman mentions, both sides have a mind to want the 2020-21 season to happen. Players won't be happy with 62% of their salaries and having to give up more now, but 62% is better than 0% if a deal isn't reached.
Love Reading About Hockey?

Subscribe to keep up-to-date with the latest and most interesting hockey news!
| | |
| --- | --- |
| | We hate spam just as much as you |