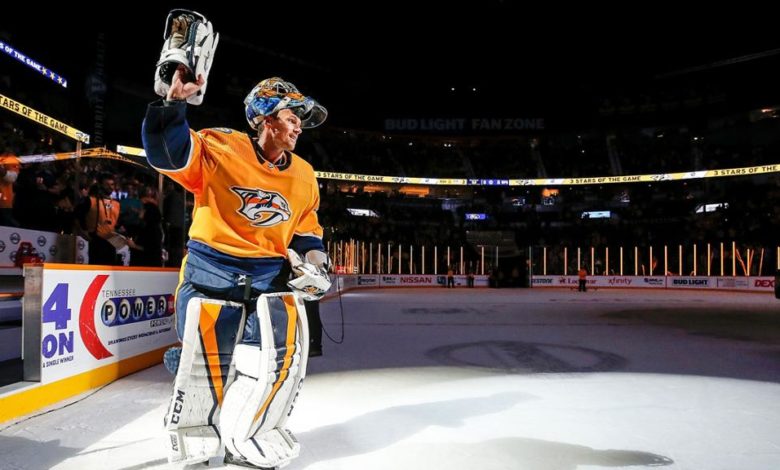 According to a report from Adam Vingan of The Athletic, the Nashville Predators are holding a "major press conference" at 11 a.m. CT on Tuesday.
Vingan adds that his understanding is that it involves goalie Pekka Rinne, who is expected to retire from the NHL. Rinne, who is 38, has played in the NHL for 15 seasons.
https://twitter.com/AdamVingan/status/1414726484124528641
Rinne was selected in eighth round (No. 258) by the Nashville Predators in the 2004 NHL Draft, soon after he and Karpat Oulu won the first of two consecutive championships in Liiga, the top professional league in his native Finland.
In 2007-08 Rinne led the AHL in wins (36) and appeared in the AHL All-Star Classic. Having played three NHL games prior to 2008-09, he appeared in 52 games with the Predators that season and finished fourth in voting for the Calder Trophy, given to the League's top rookie. Rinne had 29 wins, was fourth among NHL goaltenders with seven shutouts and played in the 2009 YoungStars Game.
Rinne had four shutouts in nine games from March 12-27, 2010. He won his Stanley Cup Playoff debut in Game 1 of the first round that season against the Chicago Blackhawks, the first road victory in Predators playoff history.
In 2010-11 he was second in Vezina Trophy voting and fourth in Hart Trophy voting while ranking second among NHL goalies (minimum 20 games) in save percentage (.930) and third in goals-against average (2.12). Rinne also helped Nashville to its first playoff series victory, in the Western Conference Quarterfinals against the Anaheim Ducks.
After leading NHL goalies in wins (43) saves (1,987), games (73) and points (five) during 2011-12, Rinne finished third in Vezina balloting. He tied for the NHL lead with five shutouts in 2012-13 and had a shutout streak of 155:06 from Feb. 10-16, 2013.
Rinne was named the most valuable player of the 2014 IIHF World Championship after he went 5-3 with a 1.88 GAA, .928 save percentage and three shutouts to lead Finland to a second-place finish. In 2014-15 he tied for second in the NHL wins (41) and was runner-up for the Vezina Trophy.
Rinne's goaltending was key to Nashville's first trip to the Stanley Cup Final in 2017. He was 14-8 with a 1.96 GAA and .930 save percentage in 22 playoff games, helping Nashville eliminate the Chicago Blackhawks, St. Louis Blues and Anaheim Ducks before losing to the Pittsburgh Penguins in the Final.
After being runner-up for the Vezina twice, Rinne won the award given to the NHL's best goalie in 2018, finishing 42-13-4 with a 2.31 GAA, .927 save percentage and eight shutouts. He also became the 12th NHL goalie to score a goal when he shot the puck from behind his own goal line into an empty net against the Chicago Blackhawks on Jan. 9, 2020.