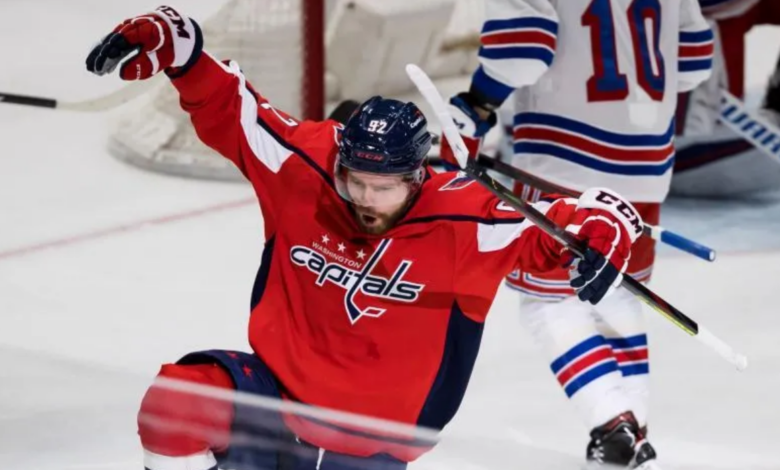 Evgeny Kuznetsov, a Russian winger, was reportedly unhappy with his current circumstances in Washington and sought a move. Since then, more time has gone, and we now have more information.
Kuznetsov has undoubtedly received some of the harshest feedback a team could receive on one of its members. According to rumors, the Russian athlete is unhappy in Washington and no longer enjoys playing sports.
In response, Sergei Fedotov, his agent, said:
"I have known Zhenya [Kuznetsov] for a very long time and are friends. There are people who are quite disciplined. Zhenya is not in this category. Zhenya from the category is closer to me if I don't feel [inspired] from what I do, I will definitely look for opportunities to make me feel comfortable. It is an inner and mental state."

Right now, Zhenya doesn't have this [joy] from hockey, and Kuznetsov, without this recharge, without a spark, he's not interested in anything. He wanted to change the team for a long time, he was tired in Washington, and also – not only aggravated, but in many respects it was influenced by the fact that Laviolette does not play the hockey that is typical for Evgeny Kuznetsov." – Sergei Fedotov
"Now, he doesn't have this joy from hockey… he just needs a change in scenery."

Russian hockey agent Sergei Fedotov spoke on longtime friend Evgeny Kuznetsov and shared a tough truth about him while saying it's time for him to move on from the Caps:https://t.co/hQi2z3k5xO

— Washington Capitals on The Hockey News (@Capitals_THN) May 10, 2023
"He just needs a change of scenery. He has a family, he has children, in this sense he is doing well. But for him to get more buzz from what he lives with, from hockey Now he doesn't have this buzz."
Given how well-liked Kuznetsov is in Washington, it is a sad thing to hear. Ideally, a deal can be reached that suits all parties, but for the time being, Kuznetsov is adamant about leaving Washington.