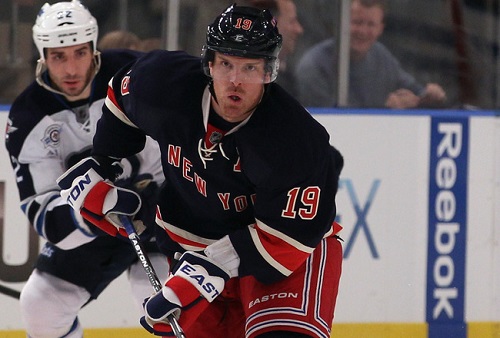 With Rangers Training Camp a little over a month away (camp opens on September 11th at Madison Square Garden), it's time to take a look at the Top Five storylines heading in to the Rangers 2013-14 campaign.
Henrik Lundqvist's Contract Situation
-Unless a contract extension is signed in the earlier portion of the regular season, get used to hearing the phrase "Henrik Lundqvist is scheduled to become a free agent at the conclusion of the season" a lot. It is highly unlikely that the Rangers brass lets Hank hit the open market (I'd be curious to see what one of the top goalies in the league would fetch as a free agent), but until the contracts are signed, this will be a story that looms all season. He is currently on the last year of a six year – $41.2 million dollar contract.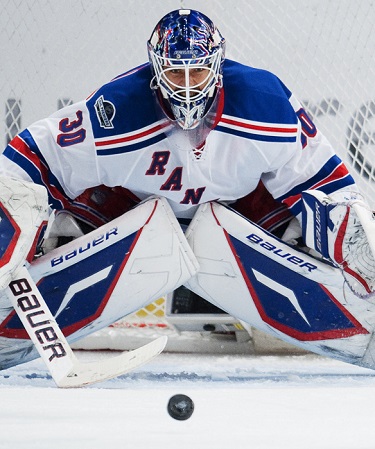 The Pitiful Power Play
-Many Rangers fans would joke that their Blueshirts should decline all power play opportunities and take a two-minute run-off from the clock instead. When you're success rate with the man-advantage is 15.7% (good enough for 23rd in the league), it's not a terrible idea. The bottom line is that there are enough skill guys on the roster that they should be much closer to the 20% success rate. You'd like to think that a new coaching style would help, but Alain Vigneault's Canucks were a whole .1% better than the Rangers, good enough for 22nd in the league. Speaking of AV…
Alain Vigneault's First Year on Broadway
-It will be a much different dynamic for the Rangers players as compared to last season. Out goes John Tortorella's defensive-minded system (along with his gruff demeanor in the hockey world), in comes Alain Vigneault's more open-style (and affable personality). You get the sense it wasn't a fun environment for Rangers players last season. A change in the day-to-day environment will provide a looser, better, more productive work place. Vigneault's top priority is improving the aforementioned power play unit.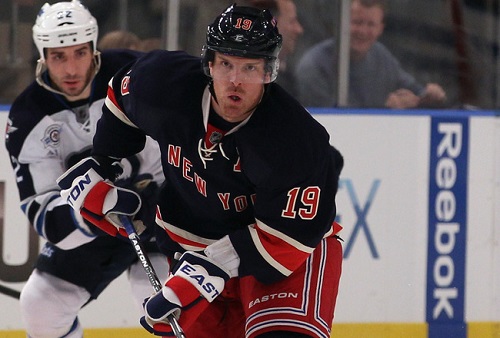 Brad Richards is likely playing his last season as a Ranger
-Short of Brad Richards having an eighty point season and getting back to his clutch ways, he's likely playing his last season in a Rangers uniform under his current contract. The Rangers have one amnesty buy-out remaining, and a cap hit of $6.66 million through the 2019-20 season is too big of a price tag for a guy who had 11 goals and 23 assists in 46 games (projects to 19 goals and 41 assists in an 82-game season). With Lundqvist, Ryan Callahan, and Dan Girardi all scheduled to become unrestricted free agents after this season, that $6 million could be used to give those three players raises.
Can Marc Staal Get Back to Form?
-For those who don't remember, Marc Staal's season basically came to an end after taking a puck to the eye in a game against the Philadelphia Flyers back on March 5th. The only game he played in after this was Game 3 of the Eastern Conference Quarterfinals against the Capitals. One of the Rangers strengths over the past couple of seasons has been their quality blueline depth. Even 80% of what Staal used to be would be a significant contribution. While Staal acknowledges that his vision will never be 100% again, he has a strong will and work ethic. Whether those intangibles lead to him getting back to top-pairing form remains to be seen.
Two other things to keep an eye on are Chris Kreider and Rick Nash. Kreider is on the last year of his entry-level contract, while some want a little more offensively from Rick Nash. This Vigneault quote from his introductory press conference is encouraging for both:
"I believe that your top skill players have to be given a little bit more latitude. They have to understand the game, they have to understand the time of the game they have to play higher percentage, but they also have to be given that latitude to make something out of nothing. That's why those guys have the high-end skill and you have to give them that leeway."
Compared to the defensive-minded system Tortorella ran, AV's system is more conducive to taking the training wheels off of the former Boston College Eagle and seeing what he's made of. As for Rick Nash, it's tough to poo-poo 21 goals and 21 assists in 48 games. That being said, he disappeared in the playoffs (one goal & four assists in twelve games). He's being counted on to be the team's top source of consistent scoring. With both being given "more latitude", both should be better in 2013-14.