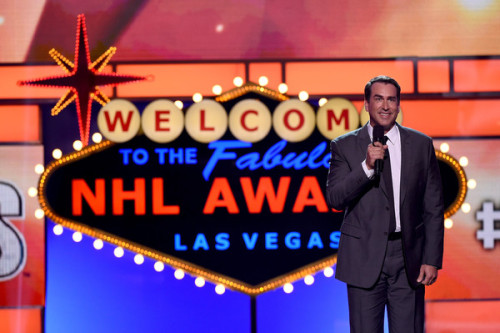 You've read the "Top 10 Worst Moments of the NHL Awards." Now read the ten best moments.
Lack of Corny Skits
Unlike last year's NHL Awards, hosted by George Stromboulopolous, there were very few skits. The vast majority of all the skits throughout the years have been bad, and not the so-bad-it's-good kind, save for the Will Arnett sketches in 2012. It was a delightful surprise with the lack of these time wasting techniques.
When Rob Riggle imitated Oprah
This joke has been told to death, but when Riggle said "You get a trophy! You get a trophy! Everyone gets a trophy!" it still got a slight chuckle from me. Some things never get old. "I feel like a much poorer man's Oprah," he said.
When he made fun of the trophies.
"We got the triple flaming ice cream cone trophy thing here," he described the Masterton trophy. Talking about the Hart Trophy, "…which is basically a pole supporting a cup that's holding a ball that is on fire. Kind of looks like what you get when you win the Hunger Games…I think." Ok it wasn't that great, but at least he's trying people.
When he made predictions for next season
He predicted that following the Islanders move from Long Island to Brooklyn, the team would adopt fauxhawks, the Penguins' third jerseys would look like hazmat suits (mumps joke), Zach Galfianakis would play Patrick Roy in Slap Shot 4, and Zemgus Girgensons would be featured on the cover of Vanity Fair, with the headline entitled 'Call me Bob.'
"That's how historic this game is. Its players get diseases that we forgot even existed."
When he took a jab at the NHL
By now everyone knows about the Stanley Cup's late arrival to the United Center when the Blackhawks won Game 6. It was the perfect opportunity to poke fun at the league for its blunder. "And the most important trophy, the Stanley Cup! … which is not here, but it's on its way! Heh, too soon? … Too late?"
When he took a jab at boxing (pun intended)
Describing the venue (MGM Grand Garden Arena in Las Vegas): "Isn't this place amazing? We're stepping it up a little bit. So many remarkable moments in entertainment and sports have happened right here. Frank Sinatra performed here. Paul McCartney performed here. And just a couple of months ago, boxing died right where I'm standing. Come on! We're hockey people, we can make fun of a fight!"
Carey Price prank
Price and Riggle decided to pull a prank very similar to the Matt Harvey and Robinson Cano pranks that Jimmy Fallon made in recent years. Price was not incognito, but rather in street clothes. Riggle asked various hockey fans about who should win the Hart Trophy for league MVP. Riggle referred to Price as his assistant C.P., who was tasked with carrying and showing photos of the finalists. None of these "fans" had any idea that Price was standing an inch away from them.
Jiri Hudler
However, the funniest moment of the night came when Jiri Hudler was awarded the Lady Byng. He arrived to the stage sans shoes and proceeded to give a hilarious acceptance speech. He joked that he received two texts in the morning: one from coach Bob Hartley which read: "Make sure Johnny [Gaudreau] goes to sleep by midnight" and the other from Gaudreau which read "Make sure you tell Bob I was in bed by 11." Classic Hudler. Strombo then proceeded to hand Hudler his shoes.
The "In Memoriam" spotlight
One of the main things that the NHL Awards have lacked is a proper "In Memoriam" segment, chronicling all who have passed away in the hockey community. The Grammys and Oscars always pay tribute to those deceased, and now the NHL has taken note. This included Jean Beliveau, Pat Quinn, Marcel Pronovost, J.P. Parise, Elmer Lach, Mark Reeds, and Steve Montador amongst many others. It was a touching moment.
The Butterfly Child's surprise
I'm sure you've all seen and heard of Jonathan Pitre, the young boy with E.B. (Epidermolysis Bullosa), a rare condition that causes the top layer of skin to blister all over one's body. It makes even the most simplest of tasks extremely difficult. His story was spotlighted by the Ottawa Citizen and by TSN's James Duthie, and it quickly made its rounds all across the internet in no time. He was introduced by Amy Purdy, a Paralympic snowboarder that has also defied odds to compete on the Amazing Race and Dancing with the Stars. Jonathan was then surprised with a heartwarming welcoming by the Ottawa Senators, including Erik Karlsson, Daniel Alfredsson, Mark Stone, Andrew Hammond, Cody Ceci, and GM Bryan Murray.
Follow me on Twitter @KevinSporkaHOHM