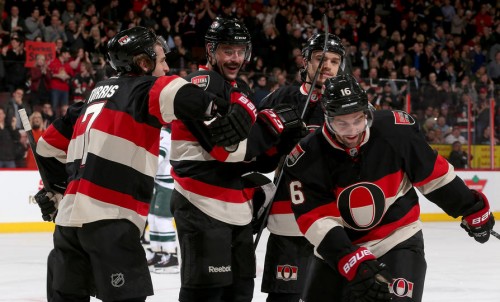 It may have been a disappointing season for the Ottawa Senators, but did they ever score some flashy goals. However, not all of these stunners are from this season. Here consists the top 10 goals scored by players who play and have played for the Ottawa Senators.
Note: These were selected based on skill and the visual appeal of the plays.
10. Daniel Alfredsson was the only one who knew this snipe actually went in the net.
9. This pretty play, finished off by Alfie, tied the game in the dying seconds in the eastern conference semi-finals against the Pittsburgh Penguins last year. They went onto win in double-overtime thanks to a goal by Colin Greening.
8. Turris hasn't been a member of the Senators for long — but I think it's fair to say he won over fans' hearts with this pinpoint precision. Hey, Ottawa tech guys, play the goal horn one more time.
7. But I thought Erik Karlsson was a defencemen…
6. Bobby Ryan was still in the honeymoon phase with the Sens and the fan base at this point. Probably won over some hearts with that finish.
5. Clarke MacArthur did a bit of wooing himself with this creative dish to Turris.
4. Jason Spezza makes up three of the top four goals on this list. Watch him make Florida Panthers blueliner Dylan Olsen forget where he was.
3. *Knock knock* Open up, it's Jason Spezza … okay I'll just walk in.
2. This next guy's name rhymes with 're-sign'.
1. And finally, Carey Price still doesn't know what happened on this play.