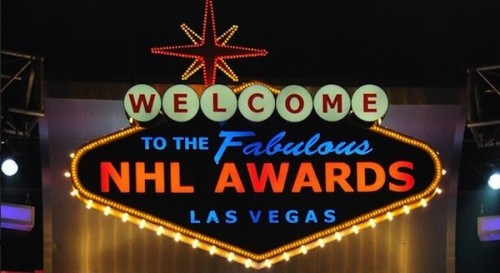 Let's face it. The NHL Awards are an embarrassment to the NHL. It's an annual train wreck that the league shamelessly constructs to be worse and worse each time around (if that's even possible). So for those of you who didn't set aside two hours of your valuable free time Tuesday night for this hilariously bad event, I've compiled a list of the worst moments from the show. Enjoy.
Honorable Mention: Apparently unable to find enough people to present all the awards, they had Mark Messier present the Hart Trophy…after he already presented his self-titled award earlier in the show.
10. When George Stroumboulopoulos Did a Really Bad Sketch
The NHL Awards show is famous for its sketches (some are decent, some are God-awful). This was not the first of those adjectives. Basically, it consisted of Strombo playing a coach in a fake locker room setting, telling some really unfunny jokes while their video editor pieced together a string of clips from the series "NHL Revealed: A Season Like No Other." If you think it sounds bad from the description, try watching it.
9. When They Had Old Celebrities Give History Lessons
This year, they had four celebrities give pre-recorded history lessons on a different award. For example, Whoopi Goldberg narrated the Lady Byng video and Susan Sarandon narrated the Selke Trophy video. Now at least they had the ability to do numerous takes to get the pronunciations of players' names right (so as to avoid another Martin Saint Lewis incident), but it came off as corny and insulting to all real hockey fans that clearly know how these awards came to be. Being that it was in Las Vegas again, they likely felt the need to educate new fans from the California and West Coast region after the Kings won the Cup again, but for the millions (I mean hundreds) of fans watching in the other hockey markets and across Canada, it was insulting.
8. When P.K. Subban Had to Interview Players in a Small Room with an Elvis Impersonator and Vegas Dancers.
I get that this is Vegas. But did we really need to gather together the most stereotypical group of people possible? In hindsight, probably not. Subban tried to give serious interviews to his fellow players, namely Crosby and Rask, who looked visibly uncomfortable amid the sideshow going on behind them.
7. When They Cut off Duncan Keith's Speech
The players' acceptance speeches is about the only reverent part of the whole affair, and even that had to be ruined by them playing the transition music before Duncan Keith had finished giving his Norris-winning speech. That's just low, NHL Awards.
6. Phillip Phillips' Pre-Recorded Performance
There was some hype surrounding recent American Idol winner Phillip Phillips' performance at the Awards. However, this wasn't a performance. It was a pre-recorded, lip-synced music video in front of a green screen and a poorly-made montage. Come on, can we get any more lame?
5. Their Obsession with Montage Videos
I'm all for a good montage video from time-to-time. But when you force-feed a thousand montage videos down everyone's throats, people will turn off their TVs. Also, these were not good videos. These montages looked like the work of a 10-year old with beginner-level editing skills. There were graphics. Lots of graphics. Everywhere. There were flashing lights and cheesy special effects. Somebody call Samuel L. Jackson, because "ENOUGH IS ENOUGH."
4. When Matisyahu Performed and Awkward Moments Were Had By All
Apparently Matisyahu wrote a song about the L.A. Kings and performed it on stage. He was soon joined by the Kings' mascot who put his arm around his shoulder, and then proceeded to dance next to him. Then Matisyahu welcomed Dean Lombardi, Luc Robitaille, Bill Ranford, Anze Kopitar, and Dustin Brown, who was carrying the Stanley Cup. So what happened next you ask? Well, the five of them stood like statues behind Matisyahu (while he continued singing) and gave their best "What are we supposed to do now?" look. Awkward.
3. When They Were About to Announce the NHL 15 Cover Winner
So Doc Emrick and Eddie Olczyk (the new commentators for NHL 15) arrived to announce the winner of the NHL 15 Cover Vote. They called the two finalists, P.K. Subban and Patrice Bergeron out. Then, it looked like they were going to say who won. Not so fast! It's completely unnecessary hip hop dance performance time! Of course it is. Then when that was over, they revealed the cover on the screen in the least dramatic way possible.
2. When They Forgot to Flip the Cue Card
When it was Eddie's turn to speak during the aforementioned cover vote pre-speech, there was a long, awkward pause mid-sentence, and it appeared that they had forgotten to flip the cue card (or advance the teleprompter). "And here (pause)…and here to reveal (longer pause) our winner, Jabbawockeez!"
1. When Cuba Gooding Jr. Presented Three Awards While Drunk
I chose this as the worst moment of the night, but really, his performance saved the show…in the worst-best way possible. In fact, his antics deserve a Top 10 list as well.
Top 10 Cuba Gooding Jr. Moments
10. When He Yelled the Winners' Names for Extra Emphasis
Ex. "DUNCAN KEITH." "DUSTIN BROWN."
9. When He Went Rogue
Straying from the script like only he could, he grabbed the microphone after Messier announced Dustin Brown as the winner of the Messier Leadership Award. "DUSTIN BROWN! Cause the Kings won the Cup baby!" Then he proceeded to pretend like he was flashing the crowd by starting to take off his jacket.
8. When He Took a Shot at the NHL
"Let's squeeze in close here, because they were too cheap to get the wide-angle lens."
7. When He Stood Pierre McGuire Distance from Everyone
You all know how close Pierre McGuire stands to people he's interviewing. Well Cuba did the exact same thing on stage, and it was hilarious, except for Mark Messier.
6. When He Kicked a Box off the Stage
One of the nicer moments of the Awards was when they brought out a young Boston Bruins fan who beat cancer to present an award to Patrice Bergeron. He was given a box to stand on, and when he was walking off the stage, Cuba saw the box sitting there, so he kicked it multiple times to get it off the stage.
5. When He Said "We know how wonderful L.A. is, sometimes."
While presenting Dustin Brown with the Messier Leadership Award, Cuba, seemingly forgetting that he had lines to say before Brown could give say his "Thank you's," said "Dustin, tell everyone what it's like to play in Los Angeles (looks at Brown) because we all know how wonderful that is (pauses) sometimes."
4. When He Pretended Like He Was Going to Hit the Kid
Getting a little over-excited Cuba acted like he was smack the kid as he was walking away from the podium.
3. When He Convinced Mark Messier and Adam Graves to Form a Reverse Oreo
"Come on, let's make a reverse oreo. Come on. Let's do it this way. That's right. Double stuffed."
2. When He Implied that He Slept With Andrew Ference's Wife
Andrew Ference concluded his King Clancy acceptance speech by remembering to thank his wife. "…And thanks to my wife (laughs after nearly forgetting to thank her). I had to get that in there. She's wonderful." So how did Cuba follow that up? "I'd like to thank your wife too Andrew. Thank you baby."
1. When He Swore on National Television and the Censors Weren't Ready for It…and rubbed Messier's Bald Head
This occurred right after forming the "reverse double-stuffed oreo." He turns to Adam Graves and says "Adam, don't grab my ass please" (really late censor pause). He continues, this time addressing Mark. "Mark, seriously, tell us about the Messier Leadership Award. Just say a little something…and get your hand off my ass (this time, successfully censored)."
Love Reading About Hockey?

Subscribe to keep up-to-date with the latest and most interesting hockey news!
| | |
| --- | --- |
| | We hate spam just as much as you |