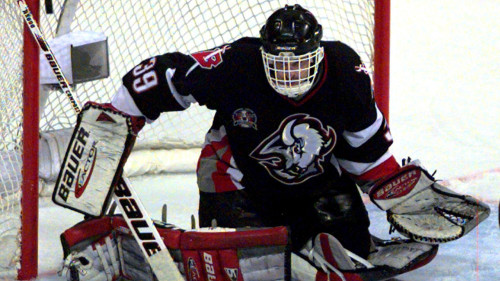 Since entering into the league in 1970, the Buffalo Sabres have had a very storied past. In the past 45 years, they have had phenomenal, history writing players wear the blue and gold during their careers. These players have helped build the franchise and have become synonymous with the team.
Whether you became a Sabres fan back in 1970 or joined the team in the early 2000's, chances are you fell in love with the team based on the play of some of their best players. Whether it was Ryan Miller, Thomas Vanek, Jason Pominville or Chris Drury, Dale Andreychuk, Rene Robert, Lindy Ruff or Alexander Mogilny, the Sabres have had their share of incredible players who encompassed fans every shift.
While the players mentioned above had storied careers in Buffalo, they failed to crack my list of the top 5 Buffalo Sabres players of all-time.
Rick Martin
One-third of the infamous "French Connection" line recorded some of the best statics in Sabres history. In his blue and gold career, he recorded 695 points in 681 games while skating on a line with Gilbert Perrault. With 382 goals, Martin ranks second in Buffalo Sabres scoring. Throughout his 11-year career, he scored 44 goals at least five times and had two back-to-back 52 goal seasons.
He kicked off his career with 74 points in 73 games during his rookie campaign as he went on to play on the best line in franchise history.
Pat LaFontaine
LaFontaine was a scoring machine during his shortened NHL career. With the Sabres, he recorded an outstanding 241 points in 141 games during his first two seasons with the Sabres. Overall he recorded an impressive 385 points in 268 games with the Sabres. His numbers are even more remarkable when you take into account he played in 22 games or less during 3 of those 6 years.
With 148 points in 84 games during the 1992-93 campaign, LaFontaine holds the record for the most points ever scored by an American-born player in a single season. He is considered one of the greatest Americans to ever suit up in the league, regarded for his play on the ice and his character off of it.
Phil Housley
Housley was an offensive defenseman before NHL teams even knew they needed them. Regarded as one of the best defensemen in both NHL and Sabres history, Housley never recorded a season with less than 60 points during his 8-year tenure with the club. In his rookie season as an 18-year-old, he produced an impressive 66 points in 77 games leading to his 1,232 points in 1,495 games
Dominik Hasek
Coming in hot at number two on the list is the man who robbed shooters blind, the great Dominator. There is little argument that Dominik Hasek is the best goaltender the Sabres have ever had. In his time with the Sabres Hasek brought home six Vezina trophies, two William Jennings trophies and two Lester Pearson trophies for his efforts.
In 1998-99, he put the team on his back and single-handedly carried them to the Stanley Cup Finales. He did so while posting a jaw-dropping .973 Save Percentage and 1.87 Goals Against Average- both of which are Buffalo Sabres franchise records. Hasek redefined goaltending in the NHL and provided Sabres fans with some of the most exciting times in franchise history. He would later go on to win the Stanley Cup twice with the Red Wings, but arguably the best of his career was played in blue and gold.
Gilbert Perrault
The Buffalo Sabres recently selected Jack Eichel with the 2nd overall pick in 2015 and while the expectations for him are quite lofty, if he's even a fraction of the player the first ever draft pick was he'll be just fine. With their first overall pick in 1970 the Sabres selected Gilbert Perrault. Perrault would go on to become on the most successful players and beloved players in team history as he anchored the "French Connection" line.
Perrault was loyal to the blue and gold player all 17 seasons of his NHL career in Buffalo. During his time, he won both the lady Byng Trophy and the Calder Trophy while making nine All-Star game appearances. To this day, one of the best centers to ever lace-up still holds Sabres records for most goals (512), most points (1,326) and assists (814).
His offensive production both in the regular and postseason was unmatched, a true leader on the ice helped set the path for the Sabres future. His number "11" was retired by the team and he was inducted into the NHL Hall of Fame for his efforts as a Sabre. If you're judging a player based on those two accolades alone, Gilbert Perrault is one of the most successful players to ever don the blue and gold.