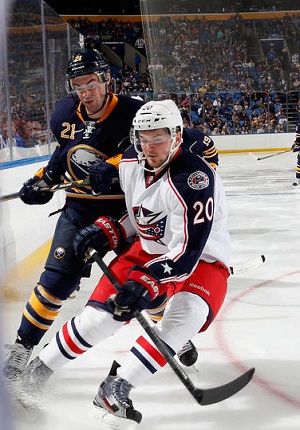 Four nights ago my twitter feed made noticeable noise over the Edmonton Oilers sending their young stud on defense back to the OHL. Darnell Nurse has looked like an NHL ready player during his time with the team. He's an elite-level prospect who will spend one more season in the major junior leagues before he is allowed to prove himself again next season. However, he easily could have made the roster at the NHL level had the Oilers management chosen to keep him this year.
Yet, all prospects can benefit from one more year where they will spend a tremendous amount of time on the ice improving on their game, whether it's in the major juniors or the minors.
The Columbus Blue Jackets are slowly, oh so slowly, trimming their roster down to the 23 player limit that the league enforces once the Regular Season officially begins. (One week for CBJ fans!)
The Blue Jackets are going to disappoint a few players, especially on defense. Columbus has eleven defensemen on their training camp roster (at the time that I am writing this) and they are all very good players. Eight of those eleven have played with the Jackets and, except for Cody Goloubef, they have all played at least 28 games for the Jackets last season.
The four established veterans Nikita Nikitin, Jack Johnson, Fedor Tyutin and James Wisniewski are definitely guaranteed a spot on the starting roster.
This leaves two open spots on the back end.
Last season, Dalton Prout stepped into the lineup and played very well for the Blue Jackets after being called up in early March. Surprisingly, his appearance in the lineup coincides with an impressive 19-5-5 run that Columbus made at the end of the season. His average time on ice was 18:31 and he led the team in +/- with a +15. At this point the Jackets are looking for immediate impact players and Prout has proven he is definitely one of those players. He had offseason abdominal surgery but has made a full recovery and is playing in exhibition games.
He is pretty much guaranteed a starting position when the season finally begins.
We are now left with the final roster spot.
"I don't know who to pick! Who would you pick?"
I'm imagining these words being thrown around the front office between John Davidson, Jarmo Kekalainen and Todd Richards.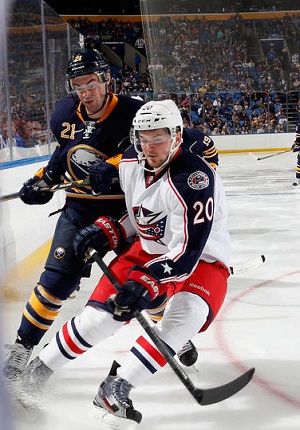 On one hand, you have the bright spot of this organization's future, Ryan Murray. He's a hard-working and highly-skilled player who looks like a future superstar already. He was drafted 2nd overall in 2012 and like Seth Jones, should have been drafted 1st overall. (Nashville and Columbus are sharing a maniacal laugh right now.) Murray is definitely ready for the NHL, but so was Darnell Nurse it seemed. Perhaps Murray will benefit from playing against the best hockey players in the world but the organization isn't in a rush after they watched Ryan Johansen struggle to become an elite player when he was promoted to the roster at 19. Ryan Murray is also 19.
Murray is already a fan-favorite. It took a few pictures of him with a guitar and his overtime goal in the first preseason game against Pittsburgh to win the hearts of the Columbus faithful. If he isn't given a roster spot it will be disappointing for many.
Watch Ryan Murray's first NHL goal in overtime against Pittsburgh:
On the other hand, you have a few defensemen who have NHL experience and a few who deserve to be here. You could argue a valid case for anyone of them. Ilari Melart has heart and toughness. Cody Goloubef is quiet but a sound player. David Savard has experience. Will Weber has to make the jump now or never and Tim Erixon has proven to be a very effective and promising young defenseman. Erixon has an extra poker chip because he came over in the Rick Nash trade and Columbus doesn't want to see any of those trade pieces go to waste.
Todd Richards' team has finished their preseason schedule and won't play again until opening night in Columbus, next Friday. He spoke about the situation Thursday night. "We're going to have some tough decisions, especially on the back end. But to me, it's a credit to the organization." Richards also added, "(competition) drives a team. The best thing you can do, as a player, is to make yourself a real valuable asset."
So, what does Columbus do with all of this depth? Who do they keep in the roster? Do they keep seven and rotate a few skaters or do they pick their top six and stick with it until an injury causes the team to make changes?
This depth problem is such a burden. The Blue Jackets should feel embarrassed for hoarding all of this talent.
The club has tomorrow off for a charity event and will return to practice this Saturday. The regular season begins in 4 days and rosters have to be finalized before then, so we will anticipate the final roster over the weekend. It's likely the management will have long discussions this weekend and finally make a tough decision.
Follow @nickjbiss