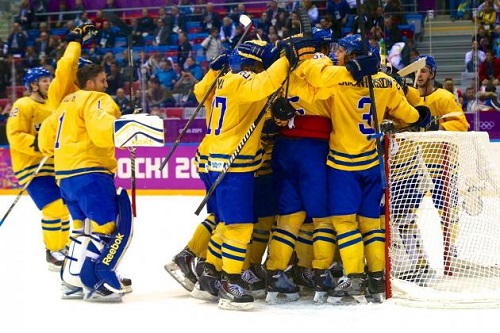 There hasn't been anything sexy about the way Sweden has gone about their business in the 2014 Olympic Games in Sochi. But style points don't count for anything, and the Swedish national hockey team has won games with a straight-forward, no-nonsense approach. Other than a tight game against Switzerland in their second game of the tournament, there hasn't been a time where you really worried that Sweden wouldn't win the game. That was no different earlier today against rival Finland, as the Swedes skated on to a 2-1 victory, and the right to play Canada for the gold medal.
In a rematch of the 2006 Gold Medal Game (that Sweden won), the teams skated to a scoreless tie heading in to the first intermission. About six minutes in to the 2nd period, it was Olli Jokinen who put Finland on the board first (assisted by Sami Vatanen), courtesy of a tough angle shot that found its way through Henrik Lundqvist's wickets. About five minutes later, Loui Eriksson tied the game with some help from Jonathan Ericsson and Nicklas Backstrom to even the game at one. Another five minutes went by before star Senators defenseman Erik Karlsson rifled a power play goal past Kari Lehtonen from the point to give Sweden the lead for good. Lundqvist was his usual stellar self, turning away 25 of 26 shots, improving to 5-0 in Sochi.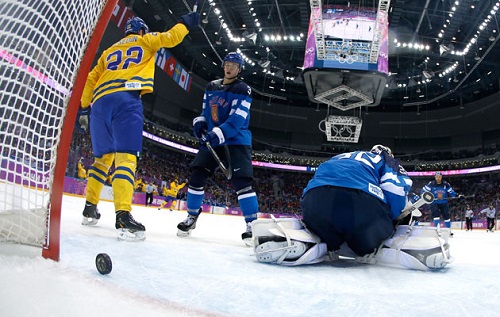 It's tough to say how differently the game would have gone if Bruins goalie Tuukka Rask had played instead of Lehtonen (Rask became ill before the game), because neither of those goals were particularly the fault of the Dallas Stars goaltender. This was a physical game, and Sweden had no problem playing a rough and tumble game (especially Red Wings defenseman and current captain Niklas Kronwall, who is wearing the 'C' after Henrik Zetterberg went down). The line of Daniel Sedin, Nicklas Backstrom, and Loui Eriksson shined again, and has become the de facto top line.
Up next for Sweden is the star-studded Canadian team, who defeated Team USA 1-0 in the other semifinal match-up. The Swedes will be going for their third-ever gold medal against the team they beat to get their first gold medal in 1994. These two teams were widely considered the two best in the tournament, and Sweden has held up their end of the bargain. All of their wins came in regulation, and they've been dictating the style of play for most of the five games.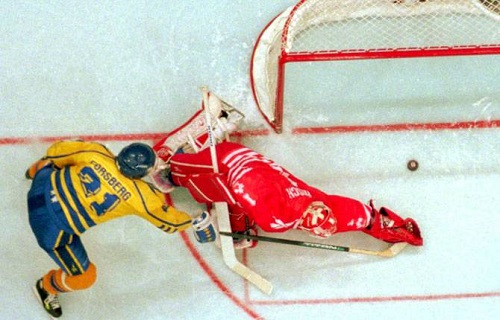 Canada has had its ups and downs despite winning all of their games. They didn't beat Norway they way they should have in the opening game (3-1), but dominated Austria in the next game (6-0). After surviving an overtime victory over Finland (2-1) to close group play, the Canadians had to sweat out a tight one against Latvia (2-1). Other than defeating Austria in convincing fashion, Canada hadn't shown the prowess we have come to expect until their semifinal game against the United States. Team USA had a strong first period, but Canada buckled down defensively, and was clearly the better team for the last two periods against one of their toughest opponents thus far.
Sunday morning's game (7AM Eastern) between Sweden and Canada should be a classic. Both teams can roll four effective lines, and both have a good group of defensemen that can produce and shutdown the other team's best players. The difference between gold and silver will come down to the goaltending. Both Lundqvist and Carey Price have big game pedigrees, but Lundqvist has the edge when it comes to gold medal game experience.