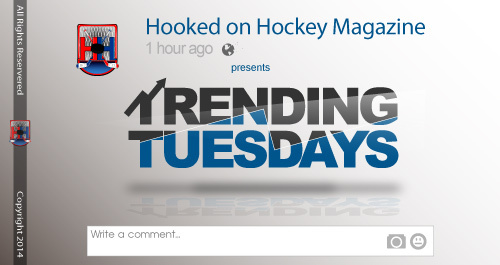 Welcome to Trending Tuesdays, hockey fans! This segment is the weekly article where you can see who's hot, who's not, and what's happening around the league we all know and love, as well as the hockey world in general:
Slava Voynov: Los Angeles Kings defenseman Slava Voynov is suspended indefinitely, pending an investigation from the NHL after being arrested on domestic violence charges. Voynov still has 4 years remaining on his contract, worth $4.16 million a year.
Sidney Crosby: Pittsburgh Penguins captain and center Sidney Crosby became the sixth fastest player in league history to tally 500 assists on Saturday against the New York Islanders.
New York Rangers: despite struggling off the get-go, Henrik Lundqvist and company earn a shutout against the impressive San Jose Sharks, beating them by 4 goals.
Eric Staal: rumors keep swirling about Carolina Hurricanes center Eric Staal being moved this season, with many fans speculating about what it would take to move the talented forward.
Edmonton Oilers: after a disastrous 0-4-1 start to the season, the Edmonton Oilers finally won their first game of the season, a 3-2 home win against the Tampa Bay Lightning. Taylor Hall led the charge with a goal and an assist.
St. Louis Blues: defenseman Alex Pietrangelo shaved his head in support of his five year-old niece, who is currently a rare type of kidney cancer. To donate to the cause, go to http://www.gofundme.com/ellianakannel.
Battle of Ontario: The Toronto Maple Leafs and the Ottawa Senators are set to play this season's first installment of the Battle of Ontario tomorrow at the Canadian Tire Centre. Toronto (2-3-1) will be looking for a much needed win to calm their fan base, while Ottawa (4-1-0) will be hoping it's business as usual.
Battle of Pennsylvania: Also taking place tomorrow is the first installment of the Battle of Pennsylvania. The first installment of the heated rivalry is set to start at 8 P.M., when the Pittsburgh Penguins (3-1-0) host the Philadelphia Flyers (1-2-2).
Keith Yandle: tonight's match against the Nashville Predators is the veteran defenseman's 500th career game. Yandle began his career in 2006-07 with the then Phoenix Coyotes, and has never played for another team.
Dominik Hasek: Buffalo Sabres organization officially announce that the Dominator's number 39 jersey will be retired on January 13th, prior to a game against the Detroit Red Wings.
Toronto Maple Leafs: Former London Knights General Manager, Mark Hunter, brother to former Washington Capitals head coach, Dale Hunter, has taken on a position in the Maple Leafs' front office as the director of player personnel. Speculation about whether brother Dale will take up the coach's chair should Randy Carlyle fail not far behind.
Ben Scrivens: the Edmonton Oilers goaltender kicks off a community project called Ben's Netminders, in association with several mental health organizations. Scrivens will sponsor 10 tickets for 10 games throughout the season to deserving youth in the Edmonton area, as well as co-operating in designing four masks that he will wear throughout the season.