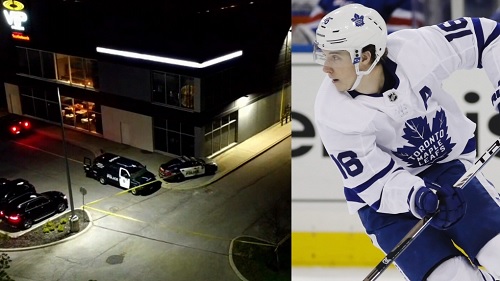 On Friday morning March 10th, Toronto Police released a statement informing the public that they have detained and charged two males in relation to the armed carjacking of Maple Leafs forward Mitch Marner in May 2022.
The two were taken into custody on Wednesday after the "Hold Up Squad" executed a search order and discovered "items of evidentiary value relevant to the inquiry."
A total of nine charges have been brought against Christon Arman Johnson, 24, of Brampton, and Anas Adan Farah, 21, of Toronto, in connection with two different carjackings, including the one involving Mitch Marner.
Adan Farah has been charged with robbery with a firearm and disguise with intent, while Arman Johnson has been charged with two counts each of robbery with a firearm, disguise with intent, and failure to abide by bail conditions.
Marner and another individual were preparing to enter his 2021 Land Rover in the parking lot of a Cineplex theater in Etobicoke when the incident happened in May of last year. While a third suspect, who Toronto Police are still searching for, demanded a cell phone from the other person Marner was with, Arman Johnson and Adan Farah, both of whom were armed with handguns, demanded Marner give them the keys to his car.
The Land Rover belonging to the Maple Leafs forward was eventually found by Toronto Police.