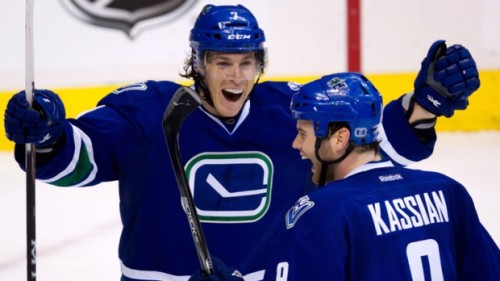 Vancouver Canucks forward David Booth cleared waivers on Wednesday and the team has used their second of two compliance buyouts on him.
Booth, 29, had one season and $4.75 million remaining on a six-year, $25.5 million contract he signed prior to the 2009-10 season while playing for the Florida Panthers.
"We wish David all the success in the future and thank him for his contributions with the Canucks," general manager Jim Benning said in a statement Tuesday after Booth was placed on waivers.
Booth was acquired from Florida early in the 2011-12 season. A 31-goal scorer in 2008-09, he was limited to 28 games the following season because of a concussion. Booth had 16 goals and 29 points in 56 games in his first season with the Canucks but was limited to 10 goals and 22 points in 78 games the past two seasons.
This is the first player transaction for new GM Jim Benning, who has plenty of important decisions left to come, with the hiring of a new coach and the NHL Draft coming up. Booth joins an ever-increasing group of people owner Francesco Aquilini is paying to not work for the Canucks, a list that includes fired general general Mike Gillis, fired coach John Tortorella, last year's buyout man Keith Ballard, and traded goalie Roberto Luongo.
The buyout increases the Canucks salary cap space to about $15-million, up from $11.7-million, reducing their current 2014-15 cap outlay to $55.1-million, according to figures from capgeek.com. The Canucks have several young restricted free agents to resign, including Zack Kassian and Chris Tanev, and may also re-sign Mike Santorelli.
The cap breathing room is likely more useful for whatever maneuvers are used around Ryan Kesler, who is set to be traded, with the idea that a Kesler trade brings back more than one player. The Canucks also have the No. 6 draft pick next week, and the team has talked about possibly trading up – which could put them in the position to draft the likes of promising local teenager Sam Reinhart, a strong two-way centre noted for his hockey sense who grew up in West Vancouver, the son of former high-scoring Canucks defenceman Paul Reinhart.
The window for teams to offer a compliance buyout to players opened Monday. Per terms of the Collective Bargaining Agreement, teams were given two special buyout provisions to be used after either the 2012-13 or 2013-14 seasons that allow them to buy out a player's contract while not having it count toward the salary cap.
Teams have until 5 p.m. ET on June 30 to decide to use a compliance buyout.