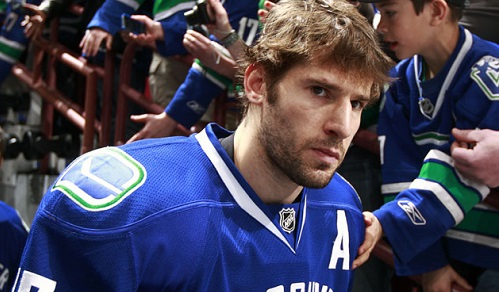 The Kesler drama is over. After months of speculation and rumours, Ryan Kesler has been traded to the Anaheim Ducks.
In return, the Canucks acquired centre Nick Bonino, defenseman Luca Sbisa, and the 24th overall pick in the 2014 NHL Draft. The teams will also swap third-round picks – Anaheim's 85th overall selection this year and Vancouver's third-rounder next year.
Kesler has spent his entire 10-year career with the Canucks and his entering the fifth year of a six-year deal worth an average annual value of $5 million.
The 29-year-old centre posted just 43 points (25 goals, 18 assists) in 77 games. He has scored 182 goals, 211 assists for 393 points in 655 career NHL games.
The two-time U.S. Olympian had a career-high 41 goals in 2010-2011, winning the Frank J. Selke Trophy as the NHL's best defensive forward and playing a major part in leading the Canucks to the Stanley Cup Final – a seven-game loss to the Boston Bruins.
Bonino, 26, scored 22 goals and added 27 points in 77 games with the Ducks in 2013-14. Originally selected in the sixth round (173rd overall) by the San Jose Sharks, Bonino has played 189 career games with the Ducks, scoring 33 goals and adding 49 assists.
The 24-year-old Sbisa notched one goal and four assists with the Ducks in 2013-14. Originally selected 19th overall by the Philadelphia Flyers at the 2008 NHL Entry Draft, he has scored nine goals and 47 assists in 266 career games with the Flyers and Ducks.
With this trade, Anaheim picks up a deadly one-two punch at centre with Ryan Getzlaf and Ryan Kesler. The Canucks on the other hand, get a decent return for being in a difficult situation regarding Kesler's NTC. With only a few teams that Kesler would approve a trade to, his value decreased. Kesler if the type of player you win with, but far from the 2011 Selke Trophy winning Ryan Kesler. For context, Nick Bonino outscored Kesler last year.
Anaheim took the next step towards winning the Stanley Cup, and the Canucks made their first of many moves this offseason. What's next?