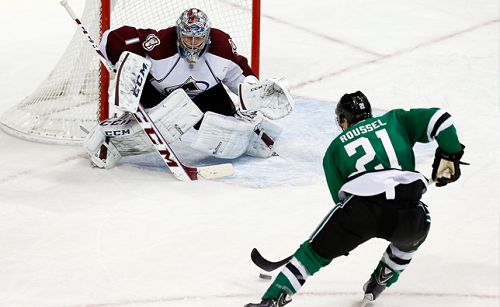 Colorado Avalanche team president Joe Sakic has found his man in net and justly rewarded him with a $29.5 million contract, extending Semyon Varlamov through the 2018-19 season.
The five-year extension was earned behind the 25-year old Russian's standup performance at goalie this season, putting up 26 wins, tying his career best. He is 26-9-5 on the season and a top 10 goaltender in most categories. He was embattled earlier this season with domestic violence charges that have since been tossed from Denver court keeping his standout season and career on-track.

Varlamov will also be heading back home to Russia to be the starting goaltender for Team Russia in the Sochi Winter Olympics. He has put many feathers in his cap since the beginning of the season and has been a huge part of the Avs success and their standing in the division.
"At only 25 years old, he is entering the prime years of his career and he wants to be part of this franchise moving forward. We are very excited to have come to terms with him and the fact that he has agreed to a five-year extension demonstrates his commitment to the Avalanche and what we're trying to accomplish," Sakic said about Varlamov on Thursday.
After a never ending search for a long-term goalie when head coach Patrick Roy retired from playing, the Avs have finally found a goalie they feel not only comfortable with, but can depend upon. It was uncertain after the trade the Avs made with the Washington Capitals in 2011 if Varlamov would be worth the 1st and 2nd round Draft picks they gave up for him, especially after he had a shaky start to his time in Colorado. His first season in Colorado he posted a 26-24-3 record behind a porous and uninspired defense and was reported to be struggling with the adjustment of life away from the Caps and his former Russian teammates.
Since coming to Colorado his English has improved considerably, he has found greater success -especially under Coach Roy- and his stock has risen as a legitimate NHL goaltender.
The Avs have also now knocked out one item on their to-do list and locked up a starting goaltender after the departure of Craig Anderson to Ottawa. Next up for the Avs front office is resigning Ryan O'Reilly, another player that has been a boon to Colorado's success.