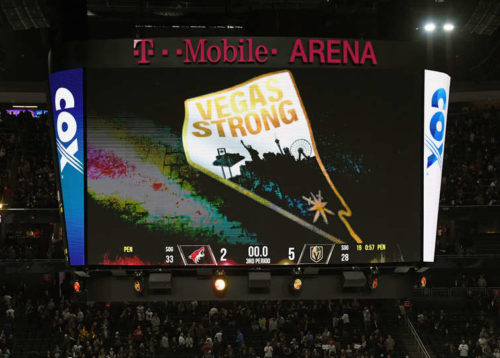 The Vegas Golden Knights are off to the best start that anyone could have predicted. With a 5-2 victory over the Arizona Coyotes in their home opener at T-Mobile Arena, the Golden Knights became the first expansion team to start a season 3-0 in their inaugural season. This of course comes even more as a surprise given the very limited amount of talent on the roster.
It's coming in a time that the city of Vegas needs most. After the horrific mass shooting incident which took 58 lives and injured hundreds of others on the first of October, the Golden Knights are helping shift the healing process through their inspirational will to find ways to win. Betting odds for the Golden Knights games are starting to see trends change in more favor after opening the season with a 125/1 odd of winning the Stanley Cup. In-fact only the Colorado Avalanche matched the same lowest odd to go all the way and they too sit with a very flash record of 3-1-0.
James Neal has lead the way scoring 5 goals in the first three games including all 3 game-winning goals. Netminder Marc-Andre Fleury too has shined in all three wins allowing only 4 goals on 107 shots (.963) which currently has him ranked 3rd overall for save percentage and 4th in goals allowed per game (1.32) statistics among all NHL goaltenders. Although it's hard to see a long-term consistency of this type of statistical pace for both star players on the Golden Knights, it doesn't mean the team won't keep on turning heads.
The Golden Knights next game is on Friday hosting the Detroit Red Wings who will be coming off playing in a back-to-back from Thursday night. This truly opens the door for the Golden Knights to keep their winning ways not only because they will be the more rested team but too because the Red Wings have trouble scoring. Will we see a 4-0 start or even better isn't as far-fetched anymore as many thought it to be two weeks ago. All that really matters is that hockey fans take-in and enjoy the beautiful nature of what this team keeps giving reason to cheer for the city of Vegas.