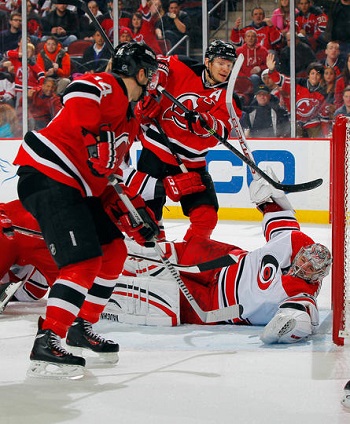 On October 24, Carolina Hurricanes goaltender Cam Ward went down with a lower-body injury that would sideline him for three weeks. The Hurricanes posted a respectable 4-5-1 record during that span and Justin Peters filled in admirably for the number one net minder during his absence. Although the Canes played decent hockey with Ward out, seeing number 30 between the pipes on November 18th against the Bruins was a welcome sight for fans at the PNC arena.
Ward has gone 2-1-1 in his four starts since returning, and he seems to be playing his most impressive hockey of the season. The Canes have won the last two games at home against Ottawa and away in New Jersey, and Ward made stellar saves in each game.
The first of the magnificent saves came against the Senators when Colin Greening put a rebound back on frame. Ward dove across and batted the puck out of mid-air with his paddle, giving the fans something to cheer about early on. The save kept the game 1-0 in favor of the Senators, and the Hurricanes used the momentum from the save to go on to a decisive 4-1 win.
The second save came in New Jersey as Devils forward Adam Henrique had an empty net with the puck on his stick. Henrique elevated the puck on his back hand from point blank range, and while still on his rear end after making the first save, Ward dove across with his glove and snagged the puck just before it crossed the goal line. The Canes had a 4-2 lead before that save, and were able to hold on for a 4-3 victory.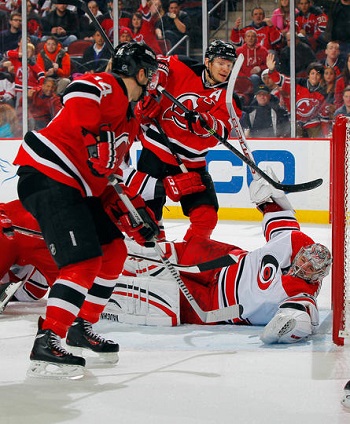 Saying that the Canes are only as good as their goaltending is an understatement. With a retooled defense, the Canes are playing more responsibly in their own end. But the focus on defense has left the offense much to be desired. With the lack of scoring, defense and goaltending have become very important in Carolina. While Justin Peters played well enough to secure a few wins for the Canes, having Cam Ward in net seems to give the team a more confident look. Ward is able to make the saves that can win hockey games, and having a healthy #30 between the pipes gives Carolina a chance to win every game they play.
The Canes currently sit in 4th place in the Metropolitan division with 25 points, one point behind the Capitals for a playoff spot. If the offense continues to show up like it has for the past two games and Cam Ward can stay hot, the Canes have a legitimate shot at making their first postseason since 2009.