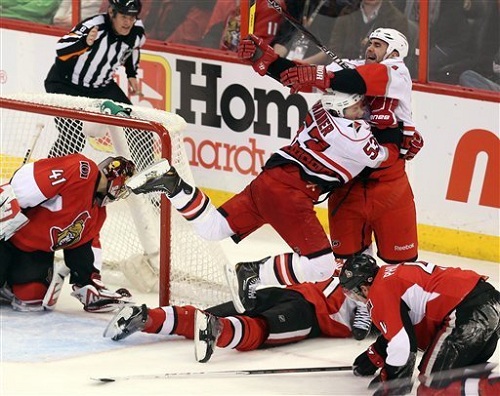 Defenseman Jay Harrison found himself on a rare odd-man rush with Jordan Staal in an overtime period on the road. After his initial shot was denied, Harrison stuffed his own rebound back into the net to give the Carolina Hurricanes a big road win in a game that they didn't fully deserve.
Ottawa outplayed the Hurricanes for much of the night but the Canes were able to take advantage of their scoring chances. Both goaltenders were great throughout the game. Senators net-minder Craig Anderson made 23 saves on the night, less than a week after allowing only one goal in Raleigh. Cam Ward was the difference maker however, as he made 45 saves for his second consecutive high-performance game. Ward allowed a goal that he would like to have back in the second period to Sens captain Daniel Alfredsson, but shut the door after the mistake. "We played such a good game, but credit to their goalie as he kept them in the game and gave them a chance to tie it up and win it in overtime," Alfredsson said. "We had our opportunities to put it away and couldn't."
Ottawa's Erik Karlsson opened the scoring with a late first period goal. Chad LaRose netted his first goal of the season to tie the game at 1, and four minutes later Alfredsson retook the lead for the Sens. The third period consisted of the Hurricanes playing solid in their own end, and counter-punching when possible. They weathered Ottawa's storm and were finally able to break out and draw a penalty with 7 minutes and change remaining in the game. The ensuing power play was a thing of beauty, as Tim Brent, Eric Staal, and Alex Semin connected on tic-tac-toe passing for the game tying goal, Semin's 2nd this season. The remaining regulation time was fast paced and frantic, as both teams traded scoring opportunities before the horn went off. Then, in overtime, Jay Harrison came up big for the Canes in a game which saw the team get outshot 47-26.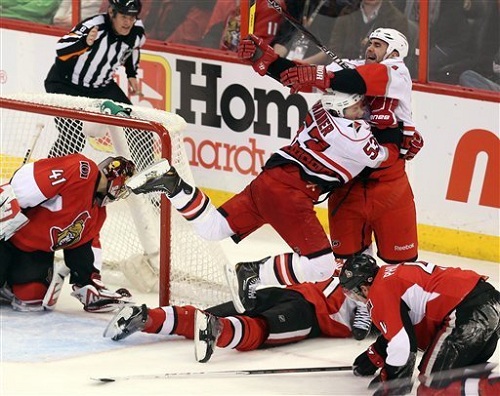 "Cam's a great goaltender and he keeps us in games," said Harrison. "He's a huge part of our success and we owe that to him."
The Hurricanes, who have grabbed 4 out of a possible 6 points on this road trip, have the possibility of getting 6 more before they return home. They will face a Flyers team in Philadelphia on Saturday night that just beat the Hurricanes 5-3. Strong goaltending is keeping the Canes in many of the games thus far, and they'll need a strong effort from whoever is in net if they want to beat the high-powered Flyers offense.